Tagged with google earth
---
Posted October 25th, 2010 at 11:24 am. There
are 0 comments
.
Approximately 1,376 Silos, Water Towers, and other Cylindrical-Industrial Buildings
by Jenny Odell
Be sure to check out the other satellite collections as well the ministry of approximate travel

what is approximate traveling? In order to travel approximately, I made use of any source of information I could find online, relying especially on Google Street View, photo databases (Panoramio, Picasa, Flickr), review sites (Yelp, TripAdvisor, CitySearch, Insider Pages), and virtual tours of monuments, restaurants, hotels, etc. I transported myself into one place after another, both by writing a travel narrative and by superimposing myself onto photos I found online. The people I "met" were disgruntled hotel reviewers, restaurant ravers, and anyone who took the time to upload their story in one form or another to a site like Google Maps.
---
Posted April 30th, 2009 at 11:50 am. There
are 0 comments
.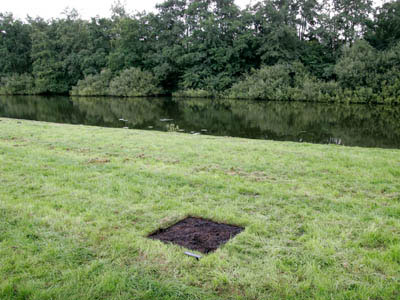 82 x 82 cm burned square, the size of one pixel from an altitude of 1 km.
A real life dead pixel by Helmut Smits. Digital display technologies affecting the real physical world with it's intentions of affecting the digital representation of the physical world. See also.
---
Posted April 17th, 2009 at 10:52 am. There
are 0 comments
.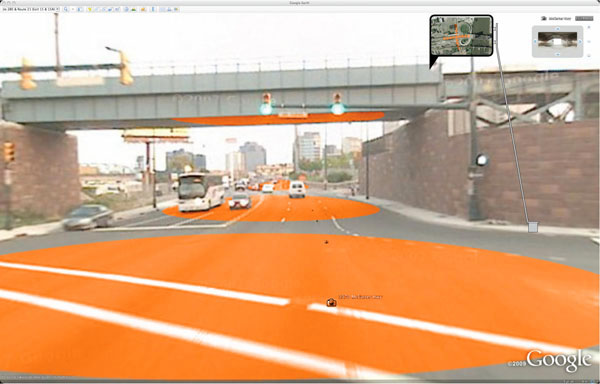 Newark Gateways by Pentagram Architects to create a series of gateways to the city of Newark New Jersey. Painting a series of cartographic type symbols into the Newark streetsccape, in actual physical space, with the intention that they will eventually be incorporated into google earth & google maps satellite views. There are two very interesting ideas at play here – deliberate alteration of the physical environment to affect the display of its digital representation, and the cartographication of the physical space, placing the visual language of representation into the actual.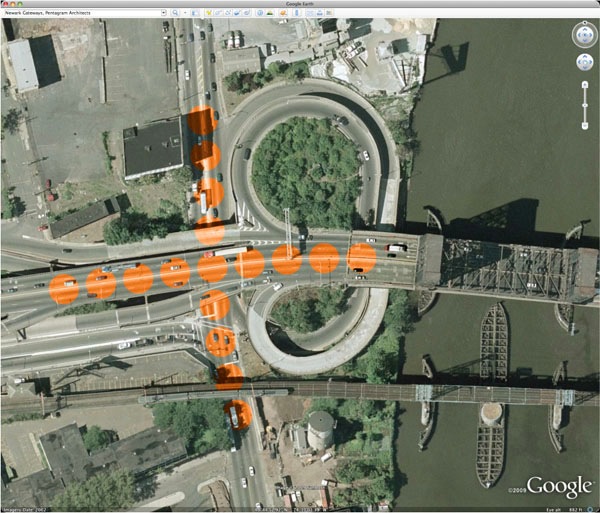 Map symbology has a long and storied history. The process of representing the three-dimensional world as flat and map-like requires a notational language. Our proposal places a new set of distinct symbols "on the map" by creating them for the Google Earth point of view. With paint and little else, Newark can define itself, celebrate its entry points, and address a global audience, all in one stroke. The painted "events" are visible and engaging on Google Earth, while the real locations would be signed with images from above that explain the colors and patterns on the ground.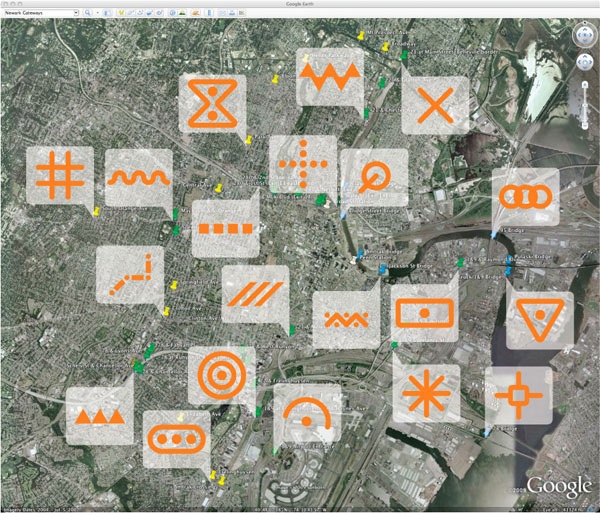 ---
[ iamtheweather powered by Wordpress And is definitely Not Plastic Bag ]