psfk conference nyc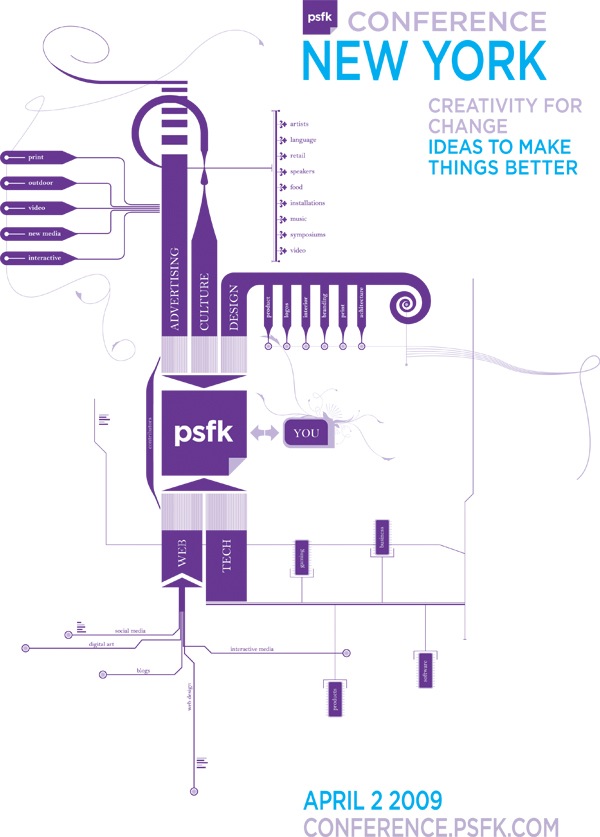 This is a collection of notes from the PSFK Conference NYC held on April 2 2009. Many of these notes come directly from my notebook and some were helped along by reading the twitter stream. Its really ugly looking but i'm not writing it down to remember it later- i'm writing it down to remember it now. I may add more to this as I sort through photos and what not. It's long, so click through if you are interested.
WHEN IDEAS CREATE GOOD – Graham Hill, Treehugger
Summary: A bunch of stuff to look at and think about. Can I get a bibliography?
Back-to-back-to-back pecha kulcha style presentations separated loosely into people, stuff and concepts. This format works well but loses some of its charm when its 60 slides for 20 seconds each and the presenter spends much of his effort orienting himself and talking about his presentation format.
A house is where you put stuff while you go out and get more stuff

– George Carlin
"Awareness is easier than action"
"In case you haven't heard, oceans are kind of fucked"
Monterey Bay Aquarium Seafood Guide – iPhone app to allow people to check out the sustainability of the fish they are about to eat
Ponoko is a service that facilitates the fabrication of amateur designer's designs. Design using available fabrication techniques, laser cutter, or solicit bids from fabricators to build nearly anything.
foldschool – designs for DIY cardboard furniture
BUILDING HEALTHY BRANDS WITH HEART, Richard Fine, Help Remedies & Jay Parkinson and Sean Khozin, Hello Health
Summary: Simplify my healthcare.
Panel discussion on the state healthcare from both product and services points of view. Both Help and HelloHealth have identified the shortcomings of a medical system that has placed the continued success of the medical business machine ahead of the care of patients. Medications are developed to satisfy marketing departments and product schedules and don't have any connection to actually making you feel better.
Medicine cabinet is the saddest place in your house

– Richard Fine
Help strives to strip away all the marketing bullshit that surrounds over the counter medication that creates confusion in the remedy aisle a the drugstore. Simple packaging, no additives or special formulas. They are striving for the essentials and simplicity in delivery of medical care product.
Healthcare Industrial Complex
"I get paid to $10000 to treat asthma & $300 to prevent it. The system is broken."
"Doctor gets 6%-7% of each dollar spent on healthcare. The rest goes into supporting the insurance billing system"
"We spend 1 hour with a doctor, 8,764 hours without a doctor"
Hello Health seeks to position itself outside of the standardized healthcare system that has been constructed as a billing system for insurance companies rather that a care system for patients. By removing the middle man from the health care equation they propose that health insurance be used for the catastrophic needs, not for everyday sniffles or routine care.
You don't use car insurance for an oil change. Why use health insurance for routine care?
Hello Health is a platform that creates a social network, between patients and doctors, allowing one to find a doctor that a a good fit, rather than one that happens to be in their insurance network. Doctors sign up, create a profile and are available via email, IM, video chat. Your health records are all online and your care is portable.
This was a combination presentation and panel which, format wise, was the best as it allowed the audience to see work as the presenters wanted it to be seen and then discussed within the panel. Colin Nagy also did a great job of being a moderator, which in these situations is usually best done by staying out of the way and gently guiding the conversation.
GHOSTS IN THE MACHINE: DIGITAL MULTICULTURE – Celestine Arnold
Summary: Multicultural inclusion is needed to make our virtual more real
Videos games reflect the ruling culture
Why are so many video games created from the white cultural perspective? White culture dominates gaming, but stats show whites do not rule gaming. Asian are killing it. The only category whites rule in is the none category.
Video games allow opportunity for race tourism, in particular in Second Life.
Studies show racism in Second Life echo studies in real world. If your avatar is black, you'll have a hard time getting help from other users.
In most first person shooters your hand is white. You can't change that.
Fantasy and role playing games don't have the wide latitude in customizing your player/avatar. You can't make your online persona look like you do in real life. If it's about creating a fantasy or idealized self than that apparently does not include being a person of color.
GTA is popular because it has a connection to real life, the game is played out in the city streets. WOW has no connection to reality.
Celestine will not play XBOX Live because of the heavy use of sexist and racist chatter, and "every dude had to rub their [virtual] crotch on me once they found out I was a girl". And she is really good at Halo.
THIS PLATFORM CALLED EVERYDAY LIFE – Kevin Slavin, Area/Code
Summary: Objects being treated as people, and people being regarded as objects. This is the future.
Eija Rita Berlinermauer – Married to the Berlin Wall – Object as person
Webkinz – object that has an online identity
Botanicalls is a system to allow for plats to talk to the network communicating their status
Your sneakers are talking "You are in an active communication relationship with your sneakers" – regarding nike+
Sharkrunners combines an online game with real life GPS tracked sharks. You move your online boats to track down real life sharks and study them. Events unfold in real time. You get an email or a text when you have reached a shark or the game requires your attention. I played when this first went live and loved it.
Kogi BBQ Taco truck that posts its location via twitter, allowing people to find their tacos.
"Here is your fucking mobile media plan – a sneaker, a plant, a shark, a truck"
By treating objects like people, by giving them the power of communication and a voice. Being able to talk to something is what makes them interesting. People or object.
Re: QR Codes – "Just pick one and go with it. Propriety formats are not good for the ecosystem."
Site specific mobile applications are useful only in particular locales.
Text to 513-381-JERK to report jerks at the sports stadium and possibly have them thrown out. Have a realtime effect on your surroundings by talking to your surroundings.
"Mobile phones amplify your abilities in the built environment" You can have superhero powers, via handheld technology
Kevin's talk was the one I was most excited about and was not at all disappointed. Well crafted, rich and engaging. Hoping to see him speak again soon. Inspired about the intersection of objects, mobile tech and location specific services
RECONNECT – Sarah Beatty, Green Depot | Simon Collins, Parsons | Ryan Jacoby, IDEO | Matthew Lusk Hecho, Inc. Moderated by David Pinter, PSFK.
Summary: Being sustainable means lots of different things. And it is hard. And good or bad.
Sustainability and green. Buzzword compliant. And then, Simon Colins says those words are verboten. Ok!
"Sustainability is a journey, not a destination" – Simon Collins
"Behavioral patterns are hard to change, the onus is on the designers to build sustainably"
"Sustainable design you can learn a lot from looking at people that are really 'cheap'". Ryan Jacoby
FOURSQUARE – Dennis Crowley, Foursquare
Summary: Foursquare makes going out more fun
Dennis did a short presentation on foursquare during lunch, in the room where everyone was eating and chatting.
The Foursquare application and service helps your nightlife. Broadcast your location and get updates on where your friends are. Nightlife can be more like a game, you earn badges, like merit badges for boy scouts, for completing certain tasks, like hitting 4 different spots in one night (bender), or checking in with several members of the opposite sex at one place (player please)
Presentations during lunch create too much competition between people talking and eating. Not good.
BRAND NEW RULES – Doug Jaeger, thehappycorp | Paul M Taylor, Diageo | Maria Vrachnos, Peep Insights | Paul Worthington, Wolff Olins
Summary: If you want to get peoples attention, take it. Measure it later, but why bother.
Seriously it was too difficult to hear what was being said. Not that it seemed too much was missed as people read prepared statements! with their pontifications about brands and analytics and metrics.
Panel saved when Doug Jaeger got the mic to answer a question about what to do, and he stood up on the chair, raised his voice to a low shout and climbed all over the people in the first row. Embrace discomfort, get out of your safe space, experiment, push. "Believe in your ideas and execute as soon as you have them, not after it's been tested."
Paul Worthington – "Feel like I just got hijacked by #psfk Note to self and everyone else – NEVER sponsor a lunch panel there"
MWM GRAPHICS – Matt W. Moore, MWM Graphics
Summary: The orange had really thick skin, but was delicious.
Visually interesting work and showed some inspiration, but honestly I only paid half attention as I was eating an orange.
NEW IDEA AGENCIES – Bart Haney, fuseproject, Carl Johnson, Anomaly, Ben Malbon, BBH Labs, Robbie Vitrano, Trumpet. Moderater by Danielle Sacks of Fast Company
Summary: Line of thinking…Doing Client work is a drag – Our Ideas are great – We should be making products – This is hard.
Agencies that are taking their creative cognitive surplus and going directly to market with their ideas for products. With some skin in the game they play less fast and loose, supposedly, and live or die by their work alone. Ok.
Own the brand rather than working for one.
Can't be fired if you are your own client.
"the ad industry is broken because it values crap ideas the same as good ideas" – Carl Johnson (via)
NEW YORK NEW MEDIA – Edward Felsenthal, The Daily Beast & Christine Huang, PSFK
Summary: Publishing words online is some crazy wild west world. Get Barry Diller to finance your venture.
NYC publishing talk. The Daily Beast is new Tina Brown news blog. They publish 6 – 7 original pieces a day, the rest is sourced from the web.
Are newspapers/magazines/media dead? "some will survive, some won't". Yes they did discuss this. When I woke up it was discussion about the differences between print and online publishing.
OPEN TO CHANGE – John Geraci, Outside.in & DIYCity.org, Scott Heiferman, Meetup, Avner Ronen, boxee and Domenico Vitale, PI&C. Moderated by Florian Peter of CScout
Summary: None of us are as smart as all of us.
Crowsourcing and community involvement in the creation of new ideas.
Boxee wants to be the Firefox of the living room
Re: Hulu activley blocking access by boxee – "Life finds a way" (Jurassic park quote FTW)
Avner Ronan manages the customer service himself, spending multiple hours per day on twitter and on Get Satisfaction.
Scott Heiferman shows up late but amps up the stage by 100%. Overtakes the moderator and dominates.
DIO, Do It Ourselves not DIY. It's the we, not the individual.
DIY City projects gaining traction. Validation is being given to amateur gathered data like Sickcity by government agencies like NYC Dept. of Health.
Florian, the moderator, talked talked far too much and tried to guide the conversation with a too heavy hand.
CITY AS CANVAS – Wooster Collective
Summary: Site specific street art makes the city alive
Marc and Sara Schiller, Wooster Collective, want to make the city more livable.
Street art that is site specific, made for one place, one moment in time. It's made as a reaction to and as a piece of the city.
"Don't over communicate, don't be too obvious."
Swoon was inspired by Gordon Matta Clark (my favorite artist)
Mostly I took the time to sit back and enjoy what they said about each of the over 50 pieces of work they showed.
tags:
advertising
art
branding
conference
design
marketing
psfk
Written by admin (contact).
It was written on April 7th, 2009 at 3:51 pm
Filed in the Category culture