Tagged with geo
---
Posted November 15th, 2010 at 10:27 pm. There
are 0 comments
.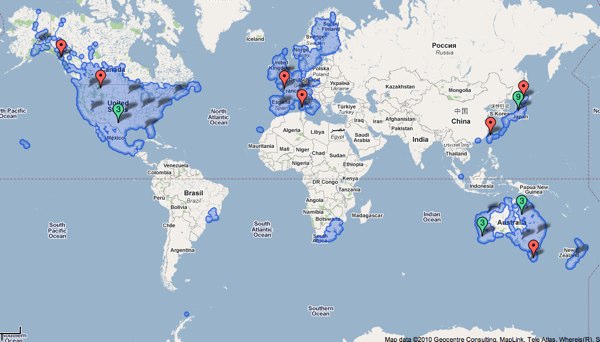 Google map showing all areas covered by Street View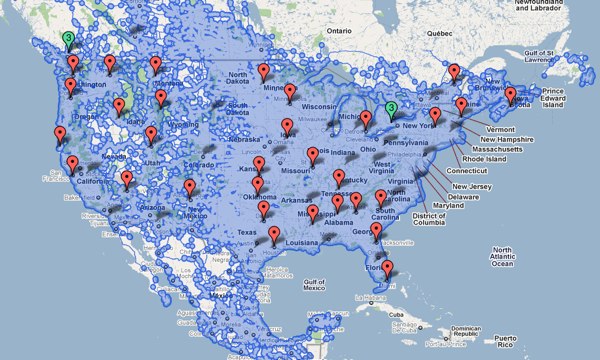 ---
Posted October 28th, 2010 at 2:47 pm. There
are 0 comments
.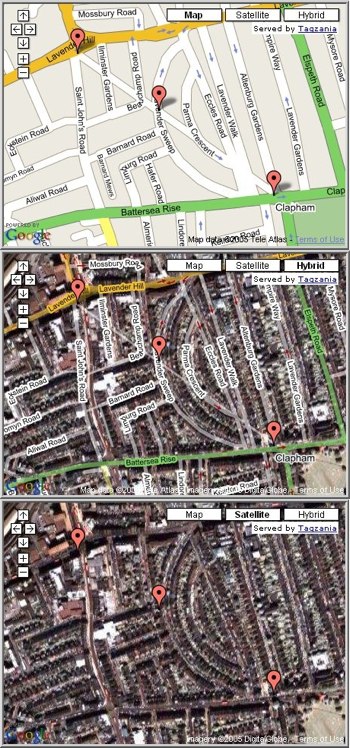 BLDGBLOG posits some possible futures of trap rooms which are the architectural equivalent of a trap street in the context of in the of interior mapping of shopping malls and the like. A trap street (examples) is a
deliberate cartographic error introduced into a map so as to catch acts of copyright infringement by rival firms.
So you put deliberately false information into your cartographic work and then monitor the maps created by competitors and watch for your honeypot cartographic features to show up on work they claim to be their own. As mentioned in the post, as the mapping of interior space becomes more widespread the introduction of trap rooms, trap corridors, trap stair etc will become commonplace as firm seek to protect their work and the deals they have made for the interior geo-data. In turn, people we be left wondering how to occupy the spaces they see in some of their maps, but not others. The best bit comes at the end,
But I'm also curious about less practical things, such as what cultural, even psychological, effects the presence of trap rooms might actually have. Games could be launched, the purpose of which is to find and occupy as many trap rooms as possible. New paranoias emerge, that the room featured above your apartment on that new app you just downloaded is not really there at all; it's a trap room, and you can't sleep at night, worried that you actually have no neighbors, that you're the last person on earth and every building around you is a dream. There are panic attacks by people walking home alone at 3am when they become overwhelmed with the suspicion that they are actually walking inside a trap hall—a corridor that has never been real—losing consciousness and falling to the ground as irrational fears become too much for them.
---
Posted December 9th, 2008 at 6:07 pm. There
are 0 comments
.
Google updated Street View in the US today and have expanded the coverage quite a bit. What used to be a series of small puffy blue clouds covering mostly metropolitan areas has now become are sea of blue covering much of the nation.
---
Posted December 19th, 2007 at 9:38 am. There
are 0 comments
.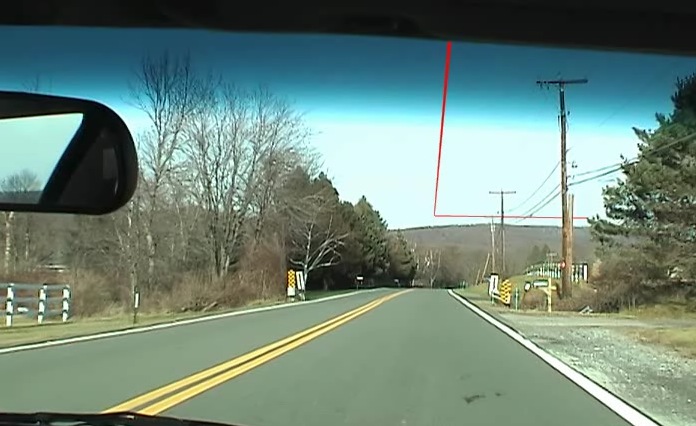 Virtual Cable technology that draws route information in an augmented reality display. The 3 dimensional display is created with lasers and mirrors (didn't fully read that section) and is generated from standard route information output by numerous GPS and SatNav systems available today. The remarkable part about it is the simplicity of the system. "Follow the red line around until we tell you to stop." The danger may be, as we have seen before, that the information is followed blindly, although keeping ones eyes on the road, and slightly above it, may be better for safety than trying to focus on small map screens, or to decipher the robo-voice directions to bear left in point-five-two miles.
---
[ iamtheweather powered by Wordpress And is definitely Not Plastic Bag ]