plain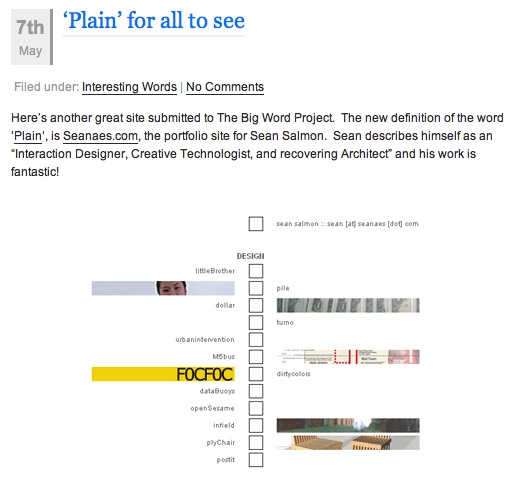 The Big Word Project featured plain as the word of the day, which I recently bought for seanaes.com. The Big Word Project seeks to redefine words by allowing users to purchase words, 1$ per letter, and link them to a url – simple. In addition to being a very interesting idea they had some very nice things to say about my work.
As we are all about the simplistic design here at The Big Word Project, Seanaes.com is a shining testament to simple design. His navigation system on his homepage is really unique and his lack of unneccesary clutter allows his impressive work to speak for itself. It is quite appropriate that his site is the new definition of the word 'Plain'. Have a look through his projects and be inspired
tags:
ego
seanaes.com
Written by admin (contact).
It was written on May 9th, 2008 at 2:16 pm
Filed in the Category orphan