In the Category orphan
---
Posted October 29th, 2008 at 9:47 am. There
are 0 comments
.

Creating an imaginary friend allows you to see your friends content within friendfeed even if they don't use friendfeed. I can't decide if it is a cheap version of data portability (good) or an additional layer to add to social network fatigue. If widely implemented you may find yourself managing your imaginary friends as you would your real or fake friends.
via atomiq
---
Posted October 27th, 2008 at 8:43 pm. There
is 1 comment
.
---
Posted October 24th, 2008 at 3:28 pm. There
are 0 comments
.
---
Posted October 17th, 2008 at 9:48 am. There
are 0 comments
.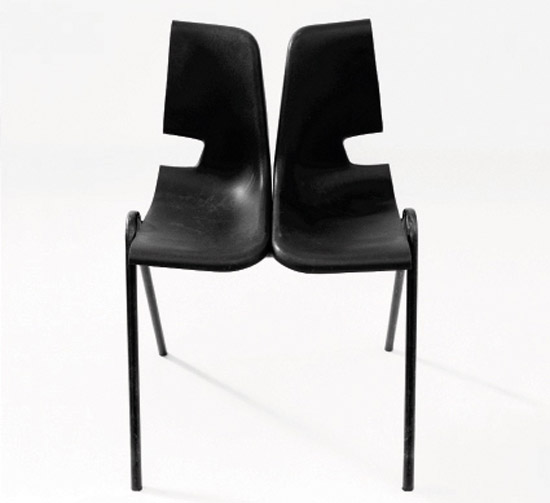 Instead of having to try to fit two people onto a chair made for one person – we have here a chair made for two half people. Studio Ball
(via designboom)
---
Posted October 10th, 2008 at 11:44 am. There
are 0 comments
.
They are a necessary evil I feel both physically and digitally. Not everything is easily file-able or able to be fit into a easily defined category. Clay Shirky alludes to this when speaking of folksonomies allow for things to be tagged with different meanings and thus make them easy to find. Of course he speaks of the problem with physical items, say a library book, not being able to be shelved on 5 different shelves. So we can add tags to things and that will help us organize and find things in the future, and attach meaning to them. I set about the fearsome task of 'organizing' my Google Reader this morning and ran into some problems that I am still trying to figure out and get myself to the right mental model of what I want from the tools and options that Reader gives me.
You can add multiple tags to any particular RSS item
You can add an RSS feed to multiple folders
But, tags and folders are the same
Folders are tags, so they get put in the same pool of tags. What's good about this? One can put an RSS feed into multiple folders, effectively having it shelved on multiple shelves in your library of feeds. But like in a library you only want to have a certain number of folders, so you try to distill down the list, group similar items and get it to a manageable number. And then there is stuff that doesn't really fit into any of your broad-as-possible-while-still-being-useful folders. This stuff has sat unfiled, unorganized, adrift until today I was able to ignore the desire to put them into 1 (obviously not happening) or 8 (seemed not so great either) folders so I made a new one which I called Interesting, and this is my junk drawer, and I am very happy with it.
---
Posted October 9th, 2008 at 4:35 pm. There
are 0 comments
.
The BBC has a special 1 year long project called The Box where they are tracking a shipping container around the world to tell the story of globalization and international commerce and trading. The great book of the same name, The Box by Marc Levinson, gives the history of the humble shipping container and the story of how it changed the world. You can track the progress of The Box as it travels the world on a map.
---
Posted October 9th, 2008 at 3:15 pm. There
are 0 comments
.
While running on the treadmill at the gym yesterday I had the pleasure of watching much of the NOVA television program on Alberto Santos-Dumont called Wings of Madness. Santos-Dumont was a Brazillian expatriot living in Paris near the end of the 19th century and was a great pioneer of aviation, inventing the dirigible and arguably the aeroplane.
Briefly mentioned was his noteriety for giving Aerial Dinner Parties, where guests sat in tall chairs 2-3 meters tall around equally tall tables all which were reached by ladder. The reason given was to give his guests the feeling of being aloft in a flying machine. From the book Wings of Madness,
When Santos-Dumont's butler ushered the guests into the dining room, they were amused to find that they had to climb a step ladder so that they could sit on high chairs positioned around a table taller than they were. But they were not surprised. Since the late 1890s Santos-Dumont had been giving "aerial dinner parties." The first ones were held at an ordinary table and chairs suspended by wire from the ceiling. This worked when the hundred-pound Santos-Dumont dined alone, but when a group assembled, the ceiling gave way under their collective weight. Santos-Dumont was a skilled craftsman, who had learned wood-working from the men on his father's coffee plantation, so he built the long-legged tables and chairs that had become a fixture of his apartment ever since. At the first elevated soirees, his guests, between sips of milky green absinthe, invariably asked what the point of the high table was. And their shy host, who preferred to let others do the talking, would run his bejeweled fingers through his jet-black hair, which was parted in the middle, in a style seen almost exclusively on women, and impishly explain that they were dining aloft so that they could imagine what life was like in a flying machine. The guests laughed. Flying machines did not exist in the 1890s, and received scientific wisdom said that they never would. Santos-Dumont ignored the snickering and insisted that they would soon be commonplace.
---
Posted September 16th, 2008 at 10:33 am. There
are 0 comments
.
xefer lets you make a chart of your twitter feed. mine is above.
---
Posted August 25th, 2008 at 8:48 am. There
are 0 comments
.
The Boombox Project is created by photographer Lyle Owerko. A great visual archive of 'ghetto blasters' and 'jam boxes'
---
Posted August 22nd, 2008 at 3:05 pm. There
are 0 comments
.

In Architecture school I spent alot of time with one of these KOH-I-NOOR 5611 leadholders in my hand. Usually loaded with a 2H or 3H lead. Its all metal construction felt heavy in the hand and very very solid. I havn't used one in years and I think I kind of miss it. You can check out a great collection of leadholders over at leadholders.com, a museum for leadholders.

---
[ iamtheweather powered by Wordpress And is definitely Not Plastic Bag ]