Tagged with twitter
---
Posted January 20th, 2009 at 11:16 am. There
are 0 comments
.
Twistori has a very nice Obama inauguration twitter zeitgeist.
via michaelsurtees
---
Posted January 16th, 2009 at 9:42 am. There
are 0 comments
.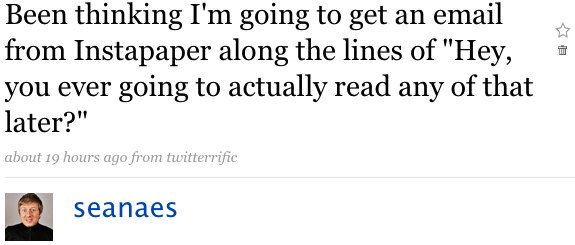 I really like the service/application Instapaper, but yesterday I noticed I kept putting more things into it and not taking them out. I am hoarding stuff – in hopes to Read Later (thats the text of the browser bookmarklet), which I truly want to do, but just keeping up with what's new, tends to leave no time for what I had wanted to Read Later. I posted this thought to twitter and through the magic of twitter and a very thoughtful Instapaper I received the email tweet I had been expecting.  Now that Instapaper has taken an interest in my dilema, even if just responding to my wondered aloud pseudo request, I promise to try to hoard less and read more – later.
---
Posted September 16th, 2008 at 10:33 am. There
are 0 comments
.
xefer lets you make a chart of your twitter feed. mine is above.
---
[ iamtheweather powered by Wordpress And is definitely Not Plastic Bag ]