Tagged with internets
---
Posted January 16th, 2009 at 9:42 am. There
are 0 comments
.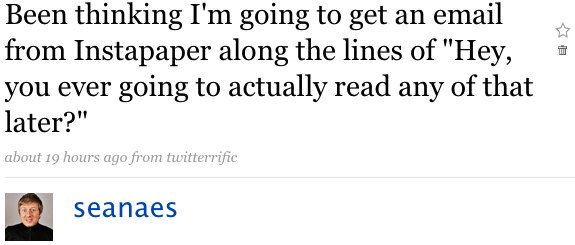 I really like the service/application Instapaper, but yesterday I noticed I kept putting more things into it and not taking them out. I am hoarding stuff – in hopes to Read Later (thats the text of the browser bookmarklet), which I truly want to do, but just keeping up with what's new, tends to leave no time for what I had wanted to Read Later. I posted this thought to twitter and through the magic of twitter and a very thoughtful Instapaper I received the email tweet I had been expecting.  Now that Instapaper has taken an interest in my dilema, even if just responding to my wondered aloud pseudo request, I promise to try to hoard less and read more – later.
---
Posted December 22nd, 2008 at 2:36 pm. There
are 0 comments
.
---
Posted November 10th, 2008 at 4:10 pm. There
are 0 comments
.
http://www.hugeurl.com/?YmNiOTEwMjk0MDE3NjBhOWUzNmNjM2IxYTk5
NzNkMjQmMTImVm0wd2QyUXlVWGxXYTJoV1YwZG9WVll3Wkc5alJsWjBUVlpP
V0Zac2JETlhhMUpUVmpGYWMySkVUbGhoTWsweFZqQmFTMk15U2tWVWJHaG9U
VmhDVVZadGVGWmxSbGw1Vkd0c2FsSnRhRzlVVjNOM1pVWmFkR05GZEZSTlZU
VkpWbTEwYTFkSFNrZGpTRUpYVFVad1NGUlVSbUZqVmtaMFVteFNUbUY2UlRG
V1ZFb3dWakZhV0ZOcmJGSmlSMmhZV1d4b2IwMHhXbGRYYlVaclVsUkdXbGt3
WkRSVk1rcElaSHBHVjJFeVVYZFpWRVpyVTBaT2NscEhjRlJTVlhCWlZrWldh
MVV5VW5OalJtUllZbFZhY1ZscldtRmxWbVJ5VjI1a1YwMUVSa1pWYkZKRFZq
QXhkVlZ1V2xaaGExcFlXa1ZhVDJOdFNrZFRiV3hYVWpOb1dGWnRNSGRsUjBs
NFUydGthVk5GV2xSWmJHaFRWMVpXY1ZKcmRGUldiRm93V2xWb2ExWXdNVVZT
YTFwWFlrZG9jbFpxU2tabFZsWlpXa1prYUdFeGNGbFhhMVpoVkRKT2RGTnJa
RlJpVjNoWVZXcE9iMWRHV25STldHUlZUV3RzTkZaWGRHdFdiVXBJWVVoT1Zt
RnJOVlJXTUZwVFZqRndSMVJyTlZOaVJtOTNWa1phYWs1V1dsaFRhMlJxVW0x
NGFGVXdhRU5TUmxweFUydGFiRlpzU2xwWlZWcHJZVWRGZUdOSWJGZFdSVXBv
VmtSS1QyUkdTbkpoUjJoVFlrVndWVlp0ZUc5Uk1XUlhWMWhvV0dKWVVrOVZh
a1pIVGxaYVdFNVZPV2hpUlhBd1ZsZDRjMWR0U2toaFJsSlhUVlp3V0ZreFdr
dGpiVkpIVld4a2FWSnRPVE5XYTFwaFlqSkZlRmRzYUZSaE1sSndWV3RhUzFZ
eFVsaE9WemxzWWtad2VGVXlkREJXTVZweVYyeHdXbFpXY0hKV2FrWkxWakpP
UjJKR1pGZE5NRXBKVjFaU1IyRXhXWGxVYTFwaFVqSm9WRlJYTlc5V1ZscEhW
V3QwYVUxWFVsaFdNV2h2V1ZaS1JsTnRPVlZXYkhCb1ZGVmFZV1JGTlZaUFYy
aHBVbGhDTmxkVVFtRmpNV1IwVWxoc2FGSldTbUZhVjNSaFYwWndSbHBHWkZS
U2EzQXdXbFZhYTJGV1pFZFNhbHBYWWxSRk1GWlVSbHBsUm1SWldrVTFWMVpz
Y0ZWWFYzUnJWVEZzVjFWc1dsaGlWVnBZVlcxNGQyVkdWblJOVldSWFRVUkdl
VlJzVm05V01VbzJVbXRvVjFaRldreFdha3BQVW14YWMxcEhiRk5OVlZZelZt
eGFVMUl4YkZkWGJrcE9WbXh3V0ZsWWNGZFdSbFp5Vm10YVQxVlVNRGs9
hugeurl.com makes URLs huge. It's like Cory Arcangel's Total Asshole Compression which increases file size, but for URLs.
---
Posted July 15th, 2008 at 4:17 pm. There
are 0 comments
.
Twice a month I get an email from photojojo that shows me a few pictures from my flickr from 1 year ago in a Photo Time Capsule. As things move so fast, and, at least for me, time to reflect and revisit past events seems to be missing from my regular routine. This is why I like getting these emails so much. I can take a peek at a year ago, revisit some memories and generally brighten my day. At the bottom of the mail is a great little form to send yourself a message in the future that will be delivered with your photojojo mail a year from now. A message to oneself feels a lot different than a photo that was meant for both myself and others, but I am interested in reading what I said a year from now.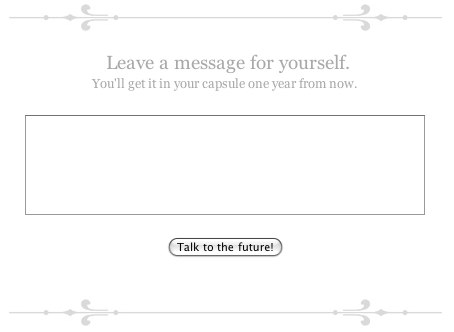 ---
Posted June 30th, 2008 at 4:28 pm. There
are 0 comments
.
Many thanks to Russell for this little gem of internet physicality.
---
Posted June 27th, 2008 at 5:01 pm. There
are 0 comments
.
---
Posted May 21st, 2008 at 1:09 pm. There
are 0 comments
.
my first post to dawdlr went up today. dawdlr is set up by one of the more interesting people around, Russell Davies who describes it as such:
I've tried to make dawdlr way slower than twitter. I reckon most people I know twitter about twice a day, so dawdlr is going to update twice a year. To try and get people to say what they're doing, you know, more generally.
Its been over six months since I posted. I must have missed last Novembers posting by a few short days.
---
[ iamtheweather powered by Wordpress And is definitely Not Plastic Bag ]