summer of fun manifesto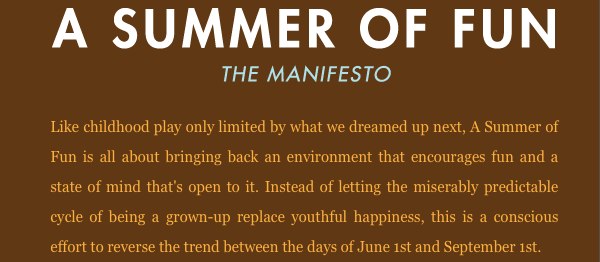 A Summer of Fun, The Manifesto presents a set of suggestions to increase your fun levels between June 1st and September 1st. My two favorites:
SLEEP DIFFERENT – Staying up extremely late or waking up extremely early is an easy way to experience a totally new world. What's outside your front door can feel like a completely foreign place when you're the only one around to experience it.
EXPERIMENT – Here's an idea: every Sunday evening, write down something that you've never done before. By the end of the week it should be checked off so you can be ready for the next thing. Don't go easy on yourself.
The more challenging the task, the bigger the reward. Use fear as a motivation to try new things. Remember, failure can be just as interesting as success.
Go read the whole list
tags:
fun
No Responses to "summer of fun manifesto" | Skip to comment form
doris Says:
June 5th, 2009 at 3:41 pm

I love a summer of fun. Must make.
Written by admin (contact).
It was written on May 27th, 2009 at 11:44 am
Filed in the Category interesting