In the Category urban
---
Posted May 14th, 2010 at 1:58 pm. There
are 0 comments
.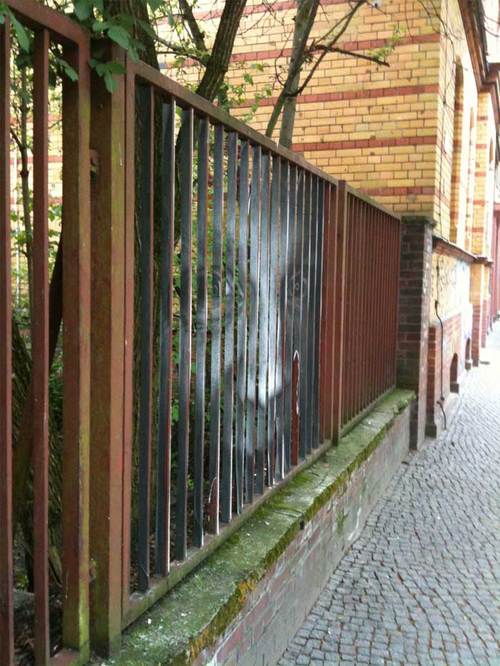 I couldn't love something like this more. Clever hidden in plain sight street art that creates a small moment of delight for the few people that catch a glimpse at the right time.
---
Posted October 14th, 2009 at 7:28 pm. There
are 0 comments
.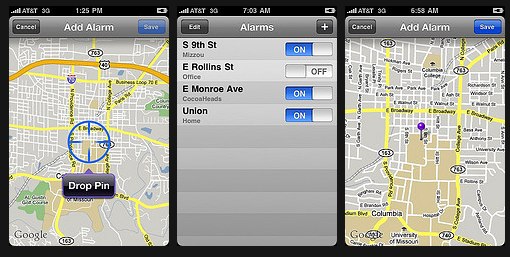 Proximity is a simple iPhone app that works as an alarm clock except the alarm is not set for a time but rather a location. It is aimed at commuters and others that end up sleeping while they are moving in some sort of transport. It is a great mobilization of two things that are usually understood as fixed: You sleeping in bed and your alarm clock on the bedside table are in a fixed location. A standard proximity sensor that is fixed in location sensing when moving things get closer than a pre-selected distance threshold.
I really like the transposition of a specific location where one would usually have a specific time, attaching an alarm to a where rather then a when. It is a bit of genius.
---
Posted October 1st, 2009 at 12:26 pm. There
are 0 comments
.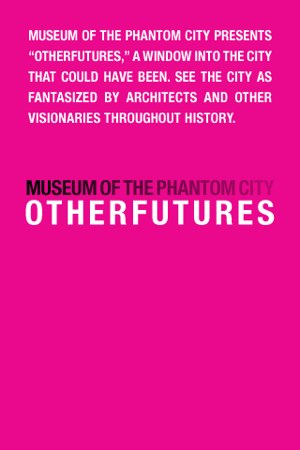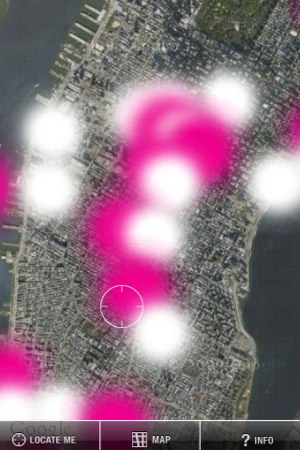 New York City of today isn't exactly as we had imagined it. Through history there have been many possible futures that have gone unrealized. The Museum of the Phantom City presents these Architectural and Urban Design proposals as one moves through the city to the intended locations via an iPhone app that is available no in the app store. The Van Alen Institute is holding a walking tour on Sturday October 3rd, the day the full site launches.
Get the Museum of the Phantom City: Other Futures iPhone app
---
Posted July 24th, 2009 at 8:52 am. There
are 0 comments
.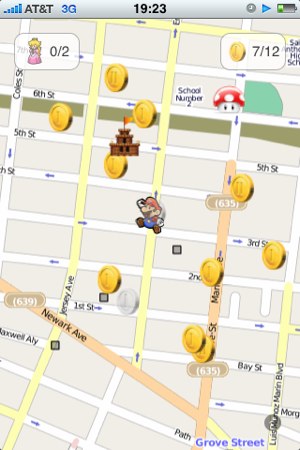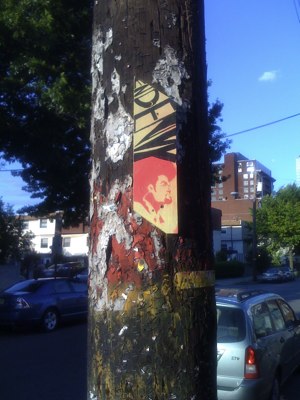 Walking home the other day I decided to play Mariolife, a real life GPS game on my iPhone. Playing in this case, is walking around in the real world gathering up virtual coins and mushrooms and rescuing princesses. In my quest to gather up coins I found myself walking on streets I had never walked, at least with any kind of noticing, and running into bits of street art I had not yet seen as well. My real life adventure was being guided by the placement of coins that existed only on the screen of my iPhone. So in spending a couple of hours wandering around collecting virtual coins and real street art (in photos) I realized that there was something really special about the collision of very different real world expereinces that was happening here.
Mariolife on iTunes
---
Posted July 8th, 2009 at 11:28 pm. There
are 0 comments
.
Update: Infrastructurist points out several more in NYC, including one at 42nd and 5th as well as a lone phone booth on a Govenors Island pier.
---
Posted June 12th, 2009 at 2:48 pm. There
are 0 comments
.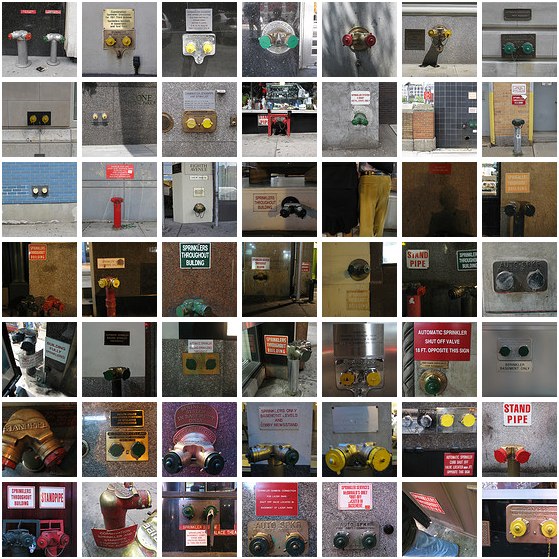 Jeff Maki has posted a field guide to NYC standpipes. These systems act like a fire hydrant to an individual building and there color coding and associated signage tell us city dwellers a bit about the fire protection in the building and perhaps more.
via infrastructurist
---
Posted June 1st, 2009 at 12:10 pm. There
are 0 comments
.
A Day in the Park is a big game that involves giant tangrams. From the game's description:
The grind of New York City as gotten to you. You and your buddies have decided to play hooky in the park. Once you get there you realize nobody has brought any supplies. You need the essentials to enjoy the day. Remember this is New York so your team is not the only one looking for a fun day, of course you have to beat out teams for your items. Each team will have to complete missions in the park, and solve HUGE tangrams to create their ideal Day in the Park .
Part of the Come out and Play festival, city-size fun.
---
Posted May 26th, 2009 at 3:56 pm. There
are 0 comments
.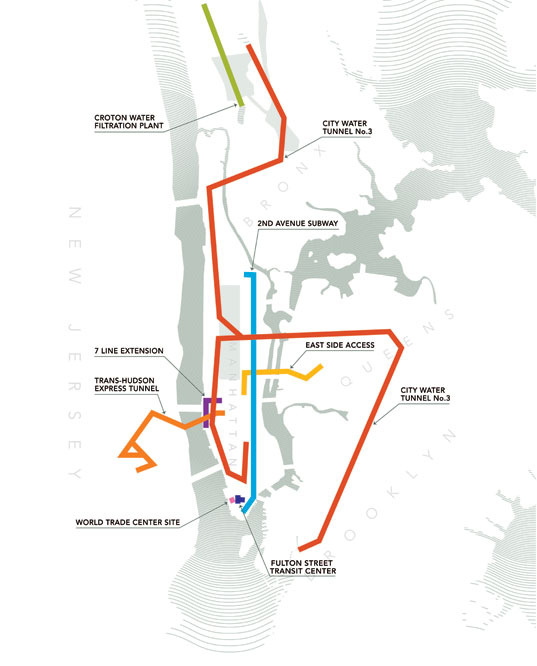 The vast underground network of tunnels in New York City is the focus of an historic exhibition allowing visitors into a world unknown and featuring the much-discussed, but little understood mega-projects bringing the City's transportation infrastructure into the 21st Century.
An exhibition at Grand Central Station and the New York Public Library highlighting the amazing mega projects that lay beneath the city streets. The website has a great selection of current and historical photos and drawings from the 8 Great Projects Under New York. This is looking like a must see for me.
---
Posted April 17th, 2009 at 6:58 pm. There
are 0 comments
.
Nice short interview with Kevin Slavin of Area/Code at Fabrica Blog from last year. Two striking quotes, but go read the whole thing
Regarding an very small anti-war protest in 2003, emphasis mine. –
And I realized that they had earpieces, and were connected to spotters, who were also in the city. And I saw that, and thought that it was unlike anything that we had ever seen before. The technologies of communication that are usually associated with authority start to be used in a million other ways. I saw that their ability to communicate was going to enable totally different ideas of how we actually use space. By 2003, the mobile phone was already common, but the ideas of groups and more sophisticated interactions other than 'I'm calling you' hadn't really been popularized.
But a big question mark had appeared over Broadway for that moment.
Regarding PacManhattan, again emphasis mine –
The things that have happened over the last ten years point to the need to restore the idea of thinking of the city as a system upon which things can be run. That the streets are not purely for commerce or transportation, but that they have a number of layers. To think of the city as hardware that different software can be run on. Some of that software is an entertainment software, one of the titles could be Pacman. To think of the city like that seemed like a new idea, and at the same time, a very old one. It's also one that can be rethought with new technologies. Mobile technologies allow us to do it in ways that we may have never been able to do.
---
Posted April 17th, 2009 at 10:52 am. There
are 0 comments
.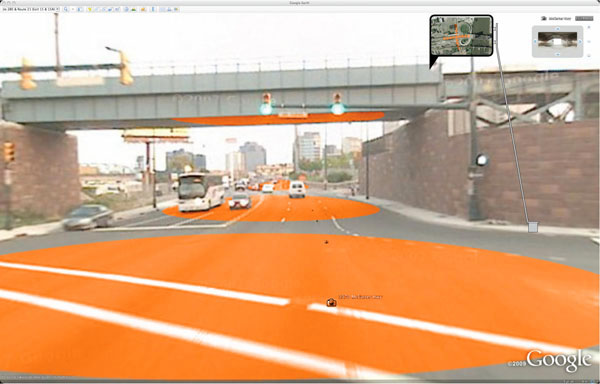 Newark Gateways by Pentagram Architects to create a series of gateways to the city of Newark New Jersey. Painting a series of cartographic type symbols into the Newark streetsccape, in actual physical space, with the intention that they will eventually be incorporated into google earth & google maps satellite views. There are two very interesting ideas at play here – deliberate alteration of the physical environment to affect the display of its digital representation, and the cartographication of the physical space, placing the visual language of representation into the actual.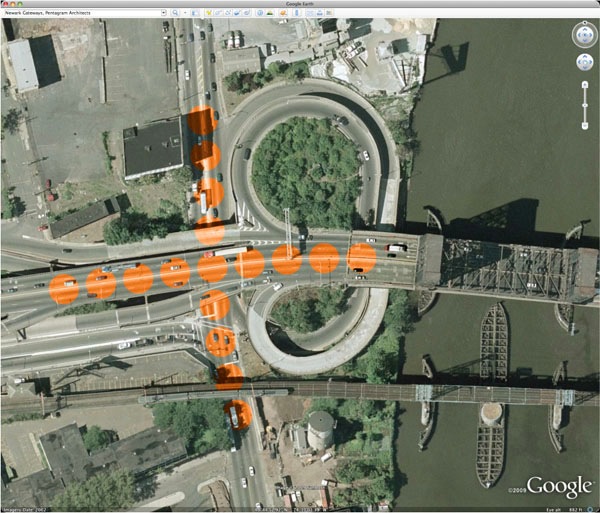 Map symbology has a long and storied history. The process of representing the three-dimensional world as flat and map-like requires a notational language. Our proposal places a new set of distinct symbols "on the map" by creating them for the Google Earth point of view. With paint and little else, Newark can define itself, celebrate its entry points, and address a global audience, all in one stroke. The painted "events" are visible and engaging on Google Earth, while the real locations would be signed with images from above that explain the colors and patterns on the ground.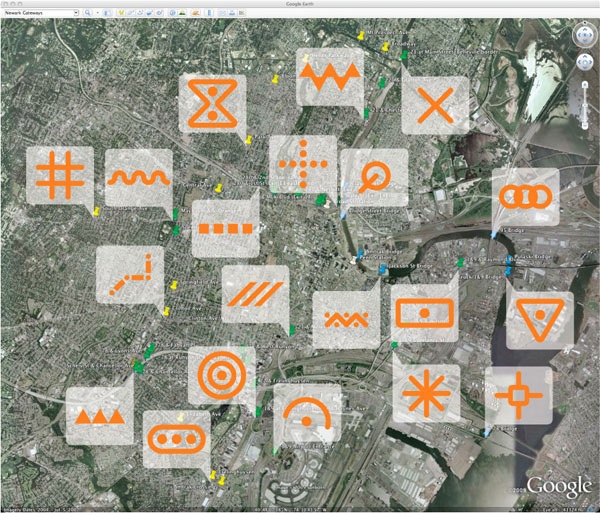 ---
[ iamtheweather powered by Wordpress And is definitely Not Plastic Bag ]