Tagged with work
---
Posted December 13th, 2010 at 4:47 pm. There
are 0 comments
.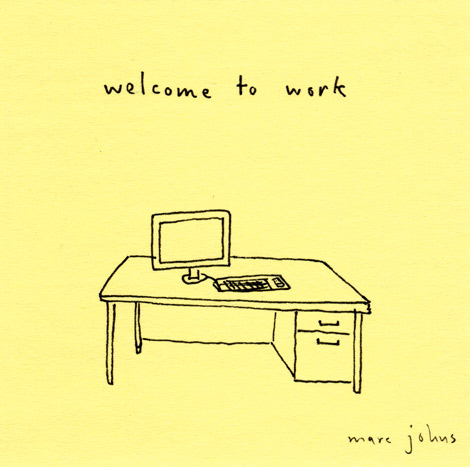 Post it drawings about management by Marc Johns
Included in an exhibition with the theme of Manager in Zurich
---
Posted May 20th, 2010 at 5:07 pm. There
are 0 comments
.
Engadget Coverage NY Times Bits Blog Coverage
At Google I/O, Googles developer conference, Android got lots of announcements and will be going to many new places – like your tv. In the presentations by executives they spent a good amount of time throwing digs at Apple, and prosthetising their openness.
Some of the interesting bits, first Android 2.2 FroYo and then Google TV (what!?)
Built in tethering, assuming your carrier supports it & wi-fi hotspot capability.
It runs apps 5X faster
Flash 10.1 runs on it – hot and at the expense of your battery say Engadget
Application updates are cleaned up – Update all now supported and can be set to automatically download
Purchase on the Web Marketplace and send to device over the air – very cool
Music store in the Marketplace – not much mentioned aside from downloading being demoed – potential very big deal here.
Stream music from your desktop – iTunes library etc – This is Simplify Media tech, a recent Google acquisition
Google Mobile AdSense – which of course make sense. Multiple ad formats from any support Ad Network, openness.
Google TV – Getting TV and the Web married, another vector for Google Ads, on your TV. Set top box UI is, um, Googley. Is that a mouse pointer I see? Yes.
Put Android Apps on your TV – If the app doesn't require phone specific stuff it should run today.
And now your regularly scheduled mobile updates ie. non Google I/O stuff
View past graffiti after it has been cleaned up
Graffyard uses QR codes to show the visual history after graffiti has been painted over. Its a nice example of encoding the visual of the city onto itself. One can imagine a future where city walls have a secondary digital presence and all advertising, graffiti and signage takes place via a persistent visual augmented reality system. The city becomes a contiguous blank canvas, a physical platform encoded with embed tags for the reality we want to see. Maybe.
African Churches Embrace Mobile
Reminders to come to services, tithings and sharing of bible passages for study all via SMS
Marko Ahtisaari who heads up design and user experience answers some questions about how Nokia is moving to react to the mobile world that is seemingly running away from them. He focuses on a very narrow definition of mobility, which may be right, or not.
"I still think the whole industry is missing a trick," said Mr Ahtisaari during a meet-the-press session in London yesterday. "All the touchscreen interfaces are very immersive. You have to put your head down. What Nokia is very good at is designing for mobile use: one-handed, in the pocket. Giving people the ability to have their head up again is critical to how we evolve user interfaces."
Heads up vs. heads down is a very interesting distinction and one that raises many interesting points about mobile device usage in the public sphere. I think if Nokia can move forward with a singular, focused direction they will be positioning themselves strongly for a good segment of the market. Im not sure if that segment will be a big enough percentage to keep them afloat, and it would represent a distinct turn from the all things to all people position they have put themselves in. What about this though – more than 50% of Nokia smartphones use touch interface ?
Speaking of heads down staring into the glowing screen – A series of photos exploring peoples relationship to their mobiles. More focused than the Flickr Lost in Text pool, which is also quite good.
The dconstruct conference website
Stretch the window down to less than 800px wide and you got the mobile version. Very elegant.
More than a third of Android users rolling on 2.1
Data compiled from a 2 week period of users accessing the Android Marketplace. Please take with a grain of salt.
Airports now on the small glowing screen
More evidence of the trend of mobile screens replacing public displays. Not sure I want to try to download an app while I'm racing through a terminal to make a connection just to see what gate my flight got moved too but, hey.
A nice roundup of technologies and ideas that are shaping the products of tomorrow. Links to examples for each in the article. Do note that four of the five listed here have a strong locative component.
1. AR browsers for mobile: Layers of data embedded in the real world around you that you can toggle between. Applications for real estate, food & entertainment, retail. This use of augmented reality will become how we live; not just an app. But will we be holding up our phones for long?
2. Augmented Mobile Profile: A social user interface implementation of your public profile. Real time information about the people around you and their entire "clouded" identity–from business card to playlists, Facebook profile to thought capitol on Slideshare. One of the ultimate social/mobile integrations I've seen.
3. The Active Idle Screen: Replaces your current homescreen with personal and valuable information (weather, trivia, sports scores, horoscope, etc.) in addition to advertisements for deals/coupons. Will reach the lowest common denominator audience.
4. QR codes without the QR: Recognizing that camera phones are crappy, we can analyze the photos. Take a picture of something and you receive contextual results around it. Mixed with geotargeting, this becomes very powerful. (Reviews, Where to buy, etc.)
5. Data Conformity: Location-based content and services are the promise of mobile marketing. But it has to work across all devices, content providers, and mobile carriers–one of today's greatest challenges. When the great aggregator arrives, it will help to bring data conformity and data consistency.
Worldwide Mobile Browser Share
Displayed very nicely as a world map
The film unfolds as the viewer visits different parts of the city. The more they travel, the more of the film they see. Whats great is the creators have released the technology behind it as open source, in addition to the first GPS film Nine Lives. This has to be better than the lame 3D that seems to be in fashion at the multiplex.
$12.7 Billion by 2014 in Location Based Services
A number thats as good as any and comes from Juniper Research. Whatever the numbers are predicted to be, location based services, hyper local advertising, geo targeted marketing and anything that has to do with exactly where you are at a given point in time – especially when you are not at your desk at work or in front of the television at home – is going to be a big deal. Period.
Helpful Guide for appropriate technology usage
Covers your basic situations of office, home, in car and the great outdoors. For instance usage of MacBookPro in the Great Outdoors should be avoided – the start up sound is bear for "bring it".
---
Posted May 6th, 2010 at 6:33 pm. There
are 0 comments
.
US in the Mobile Stone Age
According to a study commisioned by Sybase 365 the United States ranks last in the use of simple mobile technologies such as text and instant messaging. Only 1 in 3 US respondents take advantage of these services, while 9 out of 10 do in China. The results were culled from a study of 4,100 mobile phone users across 16 countries, including the United States, China and Germany.
While this is certainly true, mobile technologies have allowed leapfrogging of technology in developing society. Since it is easier to deploy a mobile network than install a landline network so the use of mobile technology in these areas is higher on average. From a service point of view it works the same way, mobile banking which is causing sea change in many parts of the world doesn't have the same impact here in the US as we have an easily available network of banks, ATMS and the support systems in place. And as for the rates of use of SMS by the mobile population at large, Howard Reingold has posited in Smart Mobs that in the US mobile technology has traditionally been positioned as a business tool for business people and voice was more important than text, and price was no object. In other parts of the world mobile tech was seen as a wider consumer product and services had more price consideration built in – making it cheaper to send a text than to make a call. Anyway…
Touch Target Sizes
With all the different screen sizes and pixel densities on the touch devices we find ourselves designing for today, we find the need to speak in the "physical" dimensions of the interface. So how big should touch interface elements be ? Touch targets should be roughly 7 to 9 millimeters and the visual object being touched shouldn't be less than 60% of the touch target size. You just need to convert backwards from there to pixels per inch and factor for device independent pixels and resolution independence and … ? Fun.
Be your own GPS voice guided navigation
Yo dawg, I herd you like to hear yourself talk. So we put your voice in the GPS so you can give yourself driving directions while you are listening to yourself give driving directions.
Nokia Ovi Maps is offering the ability to record your own voice, aptly named Own Voice, to be used in the turn by turn navigation on your Nokia smartphone. How will you compare to Darth Vader or Snoop Dogg at giving awesome directions?
How Teens Use Mobile Phones
Mostly for texting, but some other interesting insights here in this infographic
Location based Ads are a Goldmine
25% of US adults use location based services like google maps, foursquare etc. 50% of them click on these ads. Thats a crazy number and it is from The Mobile Marketing association but it illustrates that relevancy, in this case your location, has a huge impact for engagement. When I look at google maps and I see resturants listed, some of those are paid ads, but to me its just content. It blends in contextually and thats something that advertising usually has a hard time doing.
Microsoft Kin One and Kin Two Reviewed
Somewhere like a high-end feature phone but not quite a smartphone, no app store or apps for that matter. It does one thing – social networking oh, and takes pictures and video. The nicest feature isn't on the phone itself but in the cloud, the Kin Studio, creates a online backup log of all the activity on your phone, uploaded in the background, and its presented in a Silverlight powered timeline interface. This phone would have been a hit a few years ago, which is when Microsoft bought Danger but it seems out of place in the current market, especially when you consider that on Verizon, you need a full on smartphone plan, like you would get for a Droid, incredible, or Nexus One. As the Engadget review notes. there are some good ideas in the phone but leaves one with a sense of want.
Restlessness in the House of Android
HTC and Motorola are big success stories as of late with Android hardware but both are making noise about their own OS. Motorola recently acquired Azingo Mobile, which is a Linux base mobile OS with a webkit browser, flash runtime and dev tools
Clear getting into the Mobile Hardware Game
Clear, a Schematic client, announced that they would be releasing 2 Clear branded 4G phones before years end. One would be a high end Android powered device the other was not specified. Manufacturers HTC and Samsung would be building the devices. Or maybe they will dump WiMax and go forward with LTE.
---
Posted April 23rd, 2010 at 11:26 am. There
are 0 comments
.

All my phones before the iPhone 3G (not shown)
I've been writing up a little linked list with short comments at
work
for the last few months called This Week in Mobile. I try to sum up a bunch of interesting stories from the last week in the mobile space as well as highlight things that might get missed. It had been internal emails (I know, lame) but they now go to
Posterous
as well, and starting this week I'm going to be posting them here too.
This Week in Mobile | April 22 2010
Industrial Espionage
,
Questionable Ethics of All Involved,
Give us back our Stolen iPhone
A popular gadget blog happens upon a top secret prototype mobile device that happens to be from one of the most secretive and impenetrable companies around. And when I say happens upon I mean purchases from (we don't actually get to learn the iPhone finders name) whom found it in a bar where it was left by (Apple engineer who seems to still have a job but his name is a bit tarnished) who was enjoying some german beers. Yay, we get to see the new iPhone (maybe?) early and learn of new features (high res screen, camera flash, bigger battery, front facing camera, possible ceramic backplate)
Mobile App Market global ecosystem : Follow the Money
Excellent summary by Saurik, who runs the jailbreak cydia store, on all the moving parts in the complicated machine he runs.
Mobile Multitasking
Technical at times but fundamentally it boils down to the fact that on the desktop priority is given to keeping all running applications open, utilizing swap to park blocks of memory on the hard drive, at the expense of system performance. On mobile platforms, iPhone and Android, being responsive to the user is the priority, and background apps are killed when system performance may suffer. As noted in the article this is largely a fact of the limited memory present in mobile devices and may in the future move to a more desktop-like multitasking model, but I feel that this focus on the users experience aligned with many of the priorities of modern personal computing and that future desktops/laptops/tablets will move to this model of multitasking. Not thorough enough? More here
Paperboy
Bridging the physical / digital divide beautifully, this app that makes it easy to get extra digital content & social sharing functionality from paper newspapers. Uses your mobile's camera to recognize patterns in the text and presents the content on screen where you can do, you know, do stuff. Video in the link explains it all.
Alice for iPad (youtube)
If you have not watched this video yet do it now. While physical paper kids books that can be thrown across the room or used as blocks, walls and anything else imaginable by kids will not be going away anytime soon, the story of Alice in Wonderland presented this way is nothing short of pure wonder for me. It is as if imagination was right on the 'page'.
Consumer Reports has a problem with Microsofts Kin
Hipsters and Sexting. I have several other problems with the Kin. And that UI looks really familiar. Hmmmm.
Flash 10.1 for mobile delayed, slips from 1st half 2010 until 2nd half 2010
Article has a video showing a demo of webcontent utilizing flash. The video shows a simple shooting game and then The National Geographic website highlighting the use of Flash ad banners (yay?) a rich interaction navigation menu and a Flash video player. This all looks pretty good but getting Flash player to run well does require the very tippy top of the line mobile hardware so wide reach of that content is even further away than 2nd half of 2010.
Of note – 37% of Twitter updates come from Mobile
Primer on mobile apps dos and don'ts from an e-commerce
Avoid gimmicky features
Apple's iAds will make mobile ads sexy
Not sure if sexy is the right word but the article makes a fine point about the desire for brands to be on the platform and until iAds the only way to be on the platform was with a branded application. More often than not these branded applications were were just ads, and usually executed poorly (because these companies wanted to advertise and not created experiences, for better or worse) Some brands have been able to join up with apps that provide utility to their customers and 'sponsor' a paid app and make it free ie. North Face and the Ski Conditions app The Snow Report. With iAds brands can be on the platform without the burden of creating applications and usefulness and can be creative with their messaging.
Windows Phone 7 Architecture Documents Leaked
Good technical reading here. A Microsoft Live ID is required to authenticate the device, Marketplace is the only spot for Apps (no sideloading), and its built upon the guts of WinCE6
Projects Ares, Palm's WebOS Dev Platform is Live, in your Browser
Create WebOS applications in your browser. Palm is up against the ropes, with poor sales, a tumbling stock price and rumors it is up for sale – hopefully a more robust third party app ecosystem can breath some life back into them. if there is one thing Palm has going for it, it's the widely admired WebOS platform, unfortunately the person in charge of WebOS, Michael Abbot, has left Palm to go to Twitter.
GSM Infrastructure Hack allows location, call and SMS eavesdropping
Mining the data available on a GSM network, especially the HLR which is like the DNS of mobile phones, allows a dossier to be created for individual users. From that personal details can be sussed out of the data, and the use of some custom built tools, some caller ID spoofing and other secret sauce gets you voicemails, and even listening in on live phone calls. Because the hack uses the infrastructure of GSM to gather much of the information the attacks could be mitigated but changes would be slow and difficult for the carriers.
Adobe Air on Android
Coming Soon.
Yo, Android 2.2 Froyo in the wild. Yo.
Making an appearance in several sites' Google analytics. Could be faked, but hey, it's news. Whats Froyo made of?
Hate talking on the phone like I do?
10 reasons why talking on the phone sucks
---
Posted May 16th, 2009 at 12:35 pm. There
are 0 comments
.
In the rapidly approaching future, and increasingly the present, new sets of skills are required to successfully operate within the new work landscapes we are creating for ourselves. My top five from the list of 10 Workplace Skills of the Future
Longbroading
Seeing a much bigger picture; thinking in terms of higher level systems, bigger networks, longer cycles
Open Authorship
Creating content for public modification; the ability to work with massively multiple contributors
Multi-Capitalism
Fluency in working and trading simultaneously with different hybrid capitals, e.g., natural, intellectual, social, financial, virtual
Signal/Noise Management
Filtering meaningful info, patterns, and commonalities from the massively-multiple streams of data and advice
Emergensight
The ability to prepare for and handle surprising results and complexity that come with coordination, cooperation and collaboration on extreme scales
---
[ iamtheweather powered by Wordpress And is definitely Not Plastic Bag ]