Tagged with new york city
---
Posted June 22nd, 2011 at 10:38 am. There
are 0 comments
.
NSKYC displays the average color of the New York City sky, updated every 5 minutes. Cloudy and rainy today.
---
Posted February 18th, 2011 at 4:39 pm. There
are 0 comments
.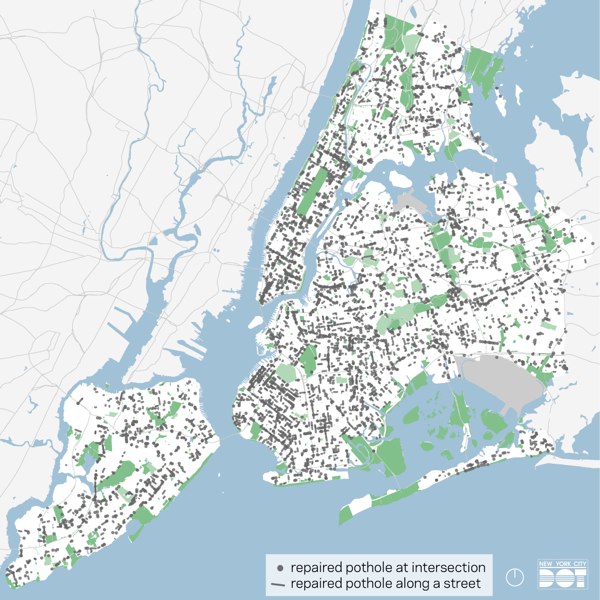 All the potholes fixed in the last month, from January 16 to February 15
the daily pothole features daily counts of potholes fixed and lots of action shots of potholes getting repaired. potholes.
---
Posted February 9th, 2011 at 1:48 pm. There
are 0 comments
.
French artist Armelle Caron deconstructs city maps and reorganizes them into neat and tidy rows.
---
Posted February 4th, 2011 at 1:22 pm. There
are 0 comments
.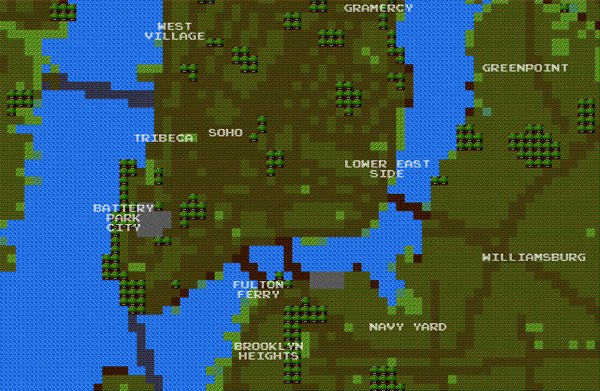 8-bit City is an awesome Kickstarter funded project by Brett Camper. Videogame graphic inspired slippy maps built on top of Openstreetmap data.
The 8-Bit Cities project, which started with 8-Bit NYC, is an attempt to make the city feel foreign yet familiar, smashing together two culturally common models of space: the lo-fi overhead world maps of 1980s role-playing and adventure games, and the geographically accurate data that drives today's web maps and GPS navigation. I hope to evoke the same urge for exploration, abstract sense of scale, and perhaps most importantly unbounded excitement that many of us remember experiencing on the Nintendo Entertainment System, the Commodore 64, or any other number of 8-bit microcomputers. Maps offer us visual architectures of the world, encouraging us to think about and interact with space in particularly constrained ways. Take some time to think about your surroundings a little differently. Set out on a quest. Be an adventurer
---
Posted June 1st, 2009 at 12:10 pm. There
are 0 comments
.
A Day in the Park is a big game that involves giant tangrams. From the game's description:
The grind of New York City as gotten to you. You and your buddies have decided to play hooky in the park. Once you get there you realize nobody has brought any supplies. You need the essentials to enjoy the day. Remember this is New York so your team is not the only one looking for a fun day, of course you have to beat out teams for your items. Each team will have to complete missions in the park, and solve HUGE tangrams to create their ideal Day in the Park .
Part of the Come out and Play festival, city-size fun.
---
Posted May 26th, 2009 at 3:56 pm. There
are 0 comments
.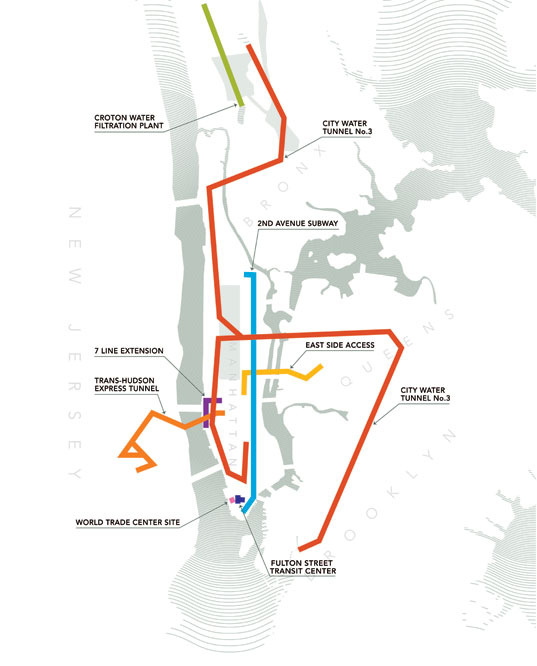 The vast underground network of tunnels in New York City is the focus of an historic exhibition allowing visitors into a world unknown and featuring the much-discussed, but little understood mega-projects bringing the City's transportation infrastructure into the 21st Century.
An exhibition at Grand Central Station and the New York Public Library highlighting the amazing mega projects that lay beneath the city streets. The website has a great selection of current and historical photos and drawings from the 8 Great Projects Under New York. This is looking like a must see for me.
---
[ iamtheweather powered by Wordpress And is definitely Not Plastic Bag ]