Tagged with infoviz
---
Posted January 11th, 2010 at 3:42 pm. There
are 0 comments
.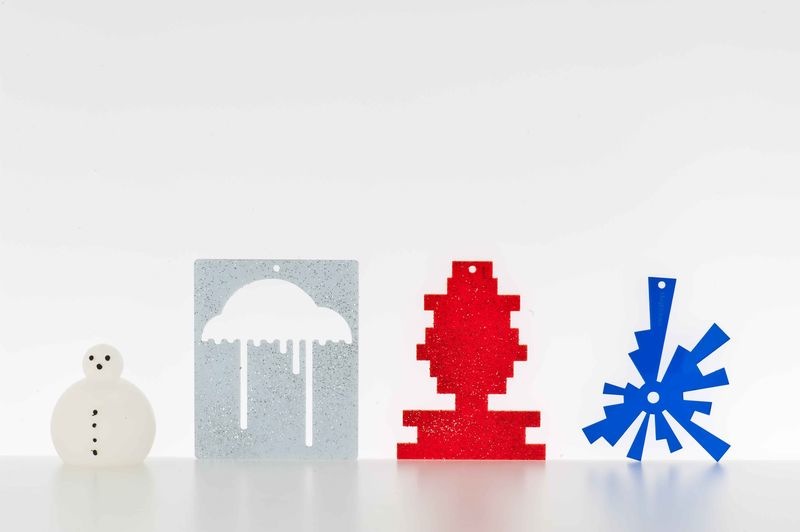 Personalized custom christmas tree ornaments made by Really Interesting Group for their friends with each friend's own social network data. Snowman's head is number is Twitter followers, length of drips from cloud is Dopplr data, horizontal red bars for number of tracks scrobbled monthly on last.fm and the blue one shows the aperatures used on photos posted to flickr. Friends without data on a particular network got a 404.
Of course Really Interesting Group are the ones behind the excellent Newspaper Club.
More pictures and details over at russell davies: datadecs
---
Posted June 3rd, 2009 at 5:14 pm. There
are 0 comments
.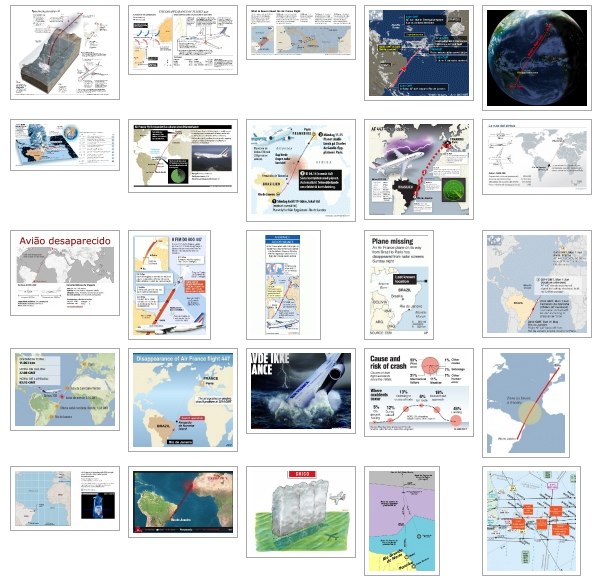 VisualJournalism has a good collection of info-graphics that attempt to explain the mystery that is the crash of AF447 in the Atlantic off the coast of Brazil. With so few details it is interesting to see the stylistic differences in these graphics that all tell, roughly, the same story – a plane flying from Rio de Janiero to Paris encounters a zone of bad weather and is never heard from again.
via @michaelsurtees
---
Posted April 14th, 2009 at 11:30 pm. There
are 0 comments
.
Horizon graphs allow large amounts of information to be shown in a cramped space with out a loss of resolution. In the examples the time series in the x-axis is maintained while the y-axis information the height, is able to be displayed in a fraction of the height. By segmenting and overlaying the information vertically, and color coding the values where the denser the color the higher the value, comparative analysis of large amounts of data is easy.
Time on the Horizon article from Visual Business Intelligence Newsletter
---
Posted April 4th, 2009 at 1:12 pm. There
are 0 comments
.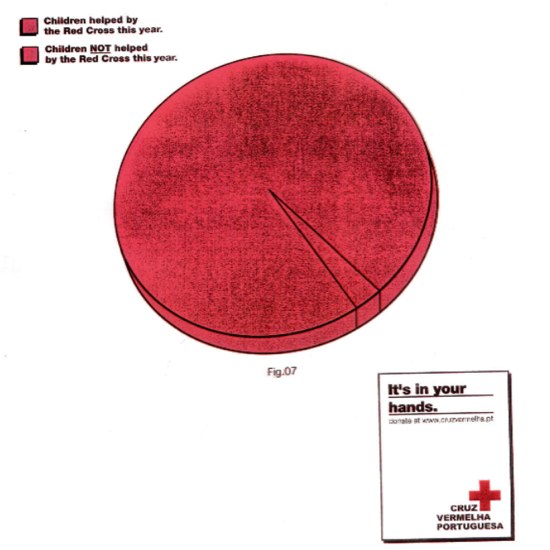 Ad for Portuguese Red Cross. Very interesting to see a confusing non-sensical information graphic get the mission of a organization so spot on.
---
Posted March 12th, 2009 at 3:52 pm. There
are 0 comments
.

Each sector of these piecharts is proportional to the area of the colour on the respective flag
---
[ iamtheweather powered by Wordpress And is definitely Not Plastic Bag ]