Tagged with art
---
Posted April 30th, 2009 at 11:50 am. There
are 0 comments
.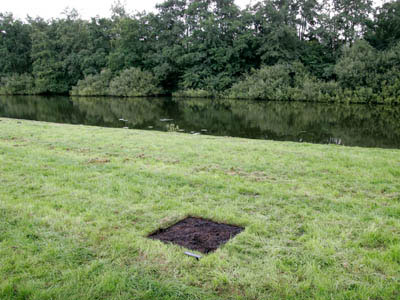 82 x 82 cm burned square, the size of one pixel from an altitude of 1 km.
A real life dead pixel by Helmut Smits. Digital display technologies affecting the real physical world with it's intentions of affecting the digital representation of the physical world. See also.
---
Posted April 13th, 2009 at 2:23 pm. There
are 0 comments
.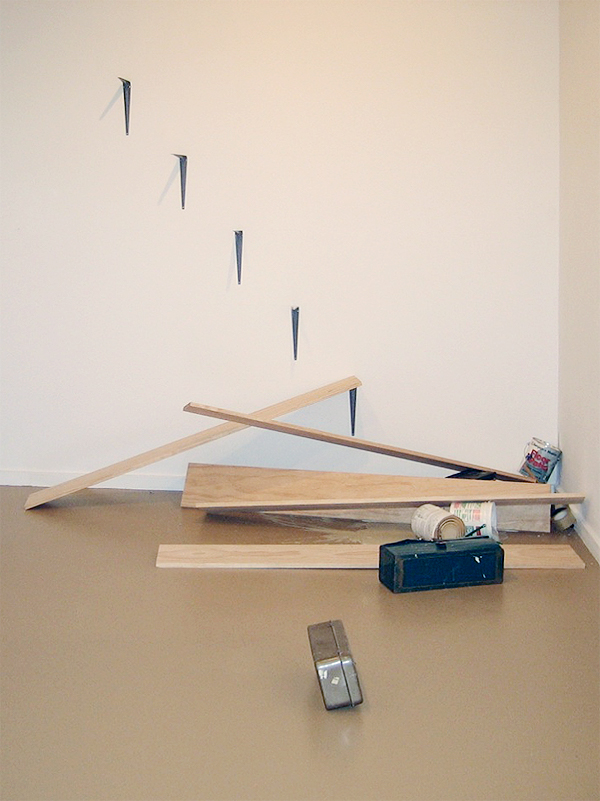 Paint Spill, 2009
Do Not Touch (counterbalanced shelves) fallen down. A can of floor paint used to counter balance one of the shelves burst open and spilt its content on the gallery floor that had recently been painted with the same paint.
Do Not Touch, 2008
---
Posted April 8th, 2009 at 7:05 am. There
are 0 comments
.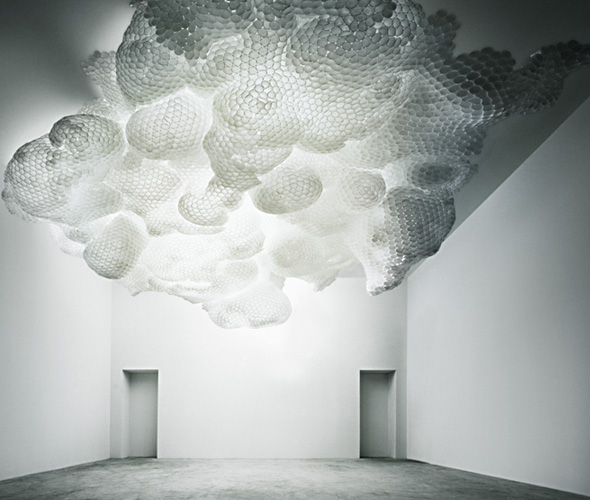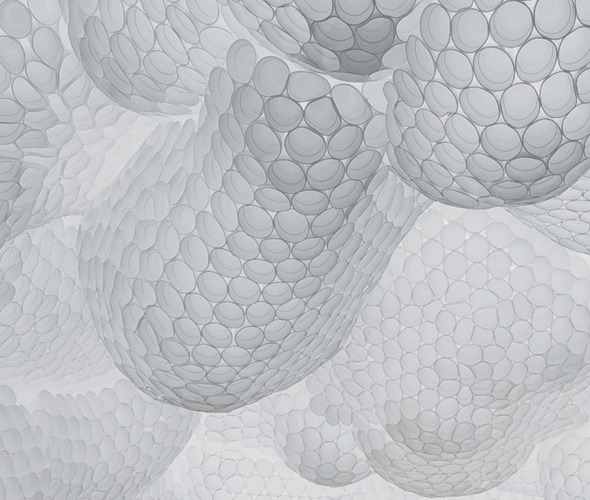 Untitled, 2003
Styrofoam Cups, Hot Glue
6′(H) x 20′(W) x 19′ 2″(D)
Ace Gallery New York
Tara Donovan creates large installations with common manufactured materials
---
Posted April 7th, 2009 at 3:51 pm. There
are 13 comments
.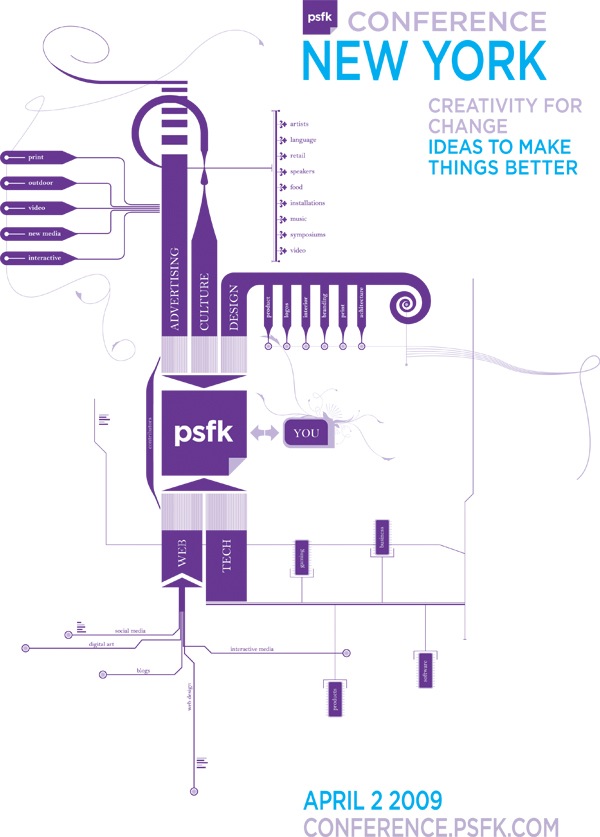 This is a collection of notes from the PSFK Conference NYC held on April 2 2009. Many of these notes come directly from my notebook and some were helped along by reading the twitter stream. Its really ugly looking but i'm not writing it down to remember it later- i'm writing it down to remember it now. I may add more to this as I sort through photos and what not. It's long, so click through if you are interested.
---
Posted March 10th, 2009 at 10:19 am. There
are 0 comments
.
Storm King Wavefield by Maya Lin
Opening at Storm King Art Center in Mountainville, NY, in May 2009
The Wavefield is comprised of seven rows of undulating, rolling waves of earth and grass. The waves range in height from ten to fifteen feet, with a trough-to-trough distance of approximately forty feet. The work at Storm King is the largest site-specific art installation that Lin has created, and it marks a culmination in her series dedicated to the exploration of water-wave formations. Because it is executed in the same scale as an actual set of waves, the viewer's experience is similar to that of being at sea, where one loses visual contact with adjacent waves. Compound curves allow for a complex and subtle reading of the space in the form of an environment that pulls the viewer into its interior and creates a sense of total immersion.
Maya Lin (warning, typically annoying architect flash site)
---
Posted March 9th, 2009 at 10:37 pm. There
are 0 comments
.
---
Posted January 20th, 2009 at 9:59 am. There
are 0 comments
.
Absolutely amazing set of unique prints by Daniel Eatock. It a nearly perfect marriage of a strict system, materiality (of the paper stock and the markers) and time. With the added bonus of a beautiful end result.
A complete set of 156 Prismacolor Markers (arranged following manufacturer's numbered color chart) held within inverted glasses, one ream of 25" x 38" uncoated, 40 lb. paper, divided into two stacks.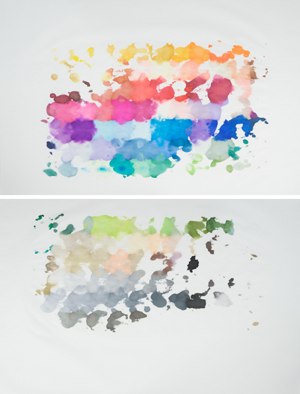 The ink reached the 31st sheet in the stack of paper that comprises the top half of the diptych and the 29th sheet of the stack that comprises the bottom half of the diptych.Prior to discovering the extent of the edition, it was determined that the price of each diptych would equal the highest number of sheets stained by the ink.
Prismacolor Pen Print (diptych) by Daniel Eatock
---
Posted January 16th, 2009 at 10:55 am. There
are 0 comments
.
A circle made by following the natural curve in a line of shopping carts. Costco parking lot Goleta, CA. 6:00 am May 5, 2004.
Applied_Geometry by Robert Wechsler

---
Posted November 7th, 2008 at 10:45 pm. There
are 0 comments
.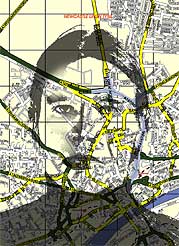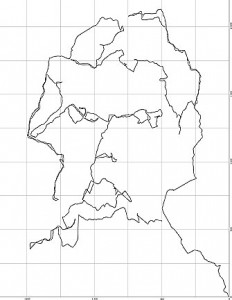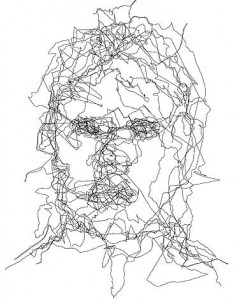 I printed my portrait on various maps. Then I started to orientate the maps following the lines on my face. On my arm I carried a satellite recorder (GPS) drawing the path that I walked.
Artist Antti Laitinen Walk the Line Project
---
Posted April 29th, 2008 at 12:22 pm. There
are 0 comments
.
Artist Nina Katchedourian embarked on a project, as part of her series on uninvited collaborations with nature, where she mended spiderwebs that appeared damaged or incomplete. Using thread and although she worked carefully the repairs did cause extra damage. The spider's reaction to the unsolicited repairs was  great.
The morning after the first patch job, I discovered a pile of red threads lying on the ground below the web. At first I assumed the wind had blown them out; on closer inspection it became clear that the spider had repaired the web to perfect condition using its own methods, throwing the threads out in the process. My repairs were always rejected by the spider and discarded, usually during the course of the night, even in webs which looked abandoned.
---
[ iamtheweather powered by Wordpress And is definitely Not Plastic Bag ]