April 14th, 2009 at 11:13 pm.
0 comments
.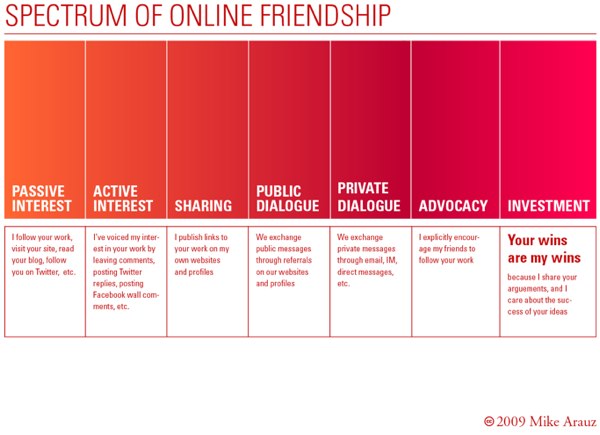 Digital technology has affected the number of relationships you can maintain, and the intimacy of those relationships, effectively enabling us to create fans who feel like friends.
Mike Arauz has some wonderful insights on what friendship means when your friends are from the internet. The interesting thing here is that friendships here need not be reciprical, and can exist more as a fan relationship.
In the digital world, none of these behaviors, even dialogue, requires a reciprocal feeling of friendship on your part. I can be your friend without you being my friend.
UPDATE:
Added the below guide to Flirting 2.0 from Kyle Bunch
---
April 13th, 2009 at 2:23 pm.
0 comments
.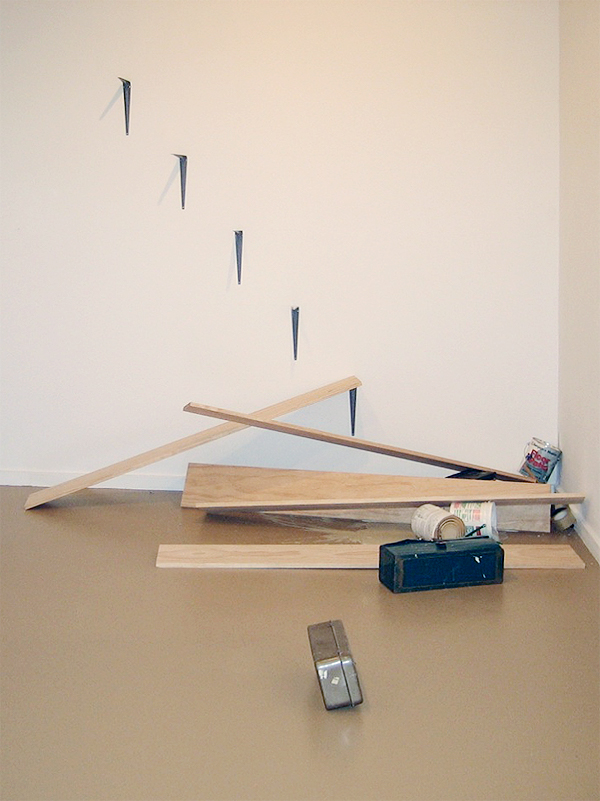 Paint Spill, 2009
Do Not Touch (counterbalanced shelves) fallen down. A can of floor paint used to counter balance one of the shelves burst open and spilt its content on the gallery floor that had recently been painted with the same paint.
Do Not Touch, 2008
---
April 8th, 2009 at 7:14 pm.
0 comments
.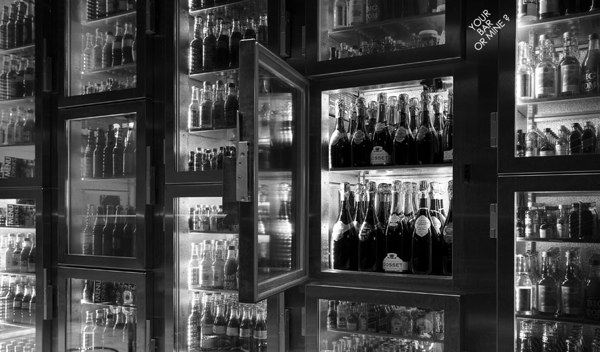 You and your friends can check in with our concierge who'll provide you with a key to one of our 45 MiNiBAR fridges. Our fridges are stocked with premium quality beverages and snacks. Each MiNiBAR contains all the classics like beer, wine and spirits, as well as a few surprises.
---
April 8th, 2009 at 7:05 am.
0 comments
.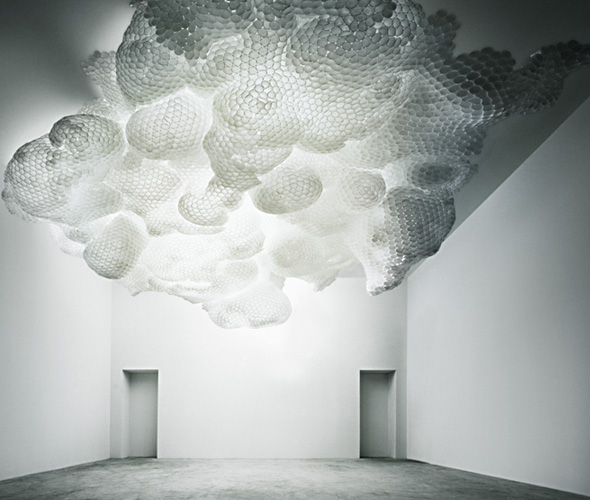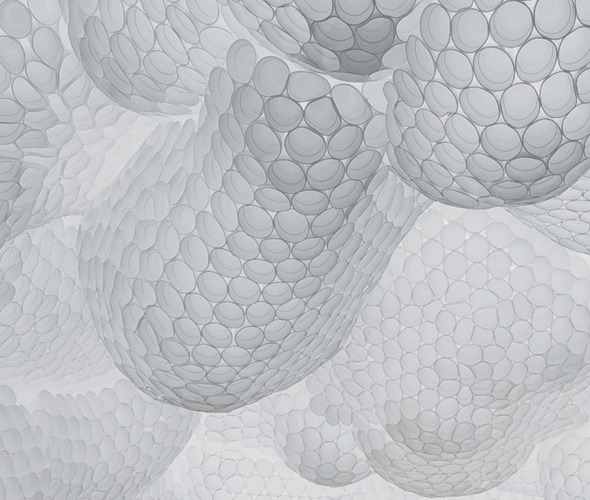 Untitled, 2003
Styrofoam Cups, Hot Glue
6′(H) x 20′(W) x 19′ 2″(D)
Ace Gallery New York
Tara Donovan creates large installations with common manufactured materials
---
April 7th, 2009 at 3:51 pm.
13 comments
.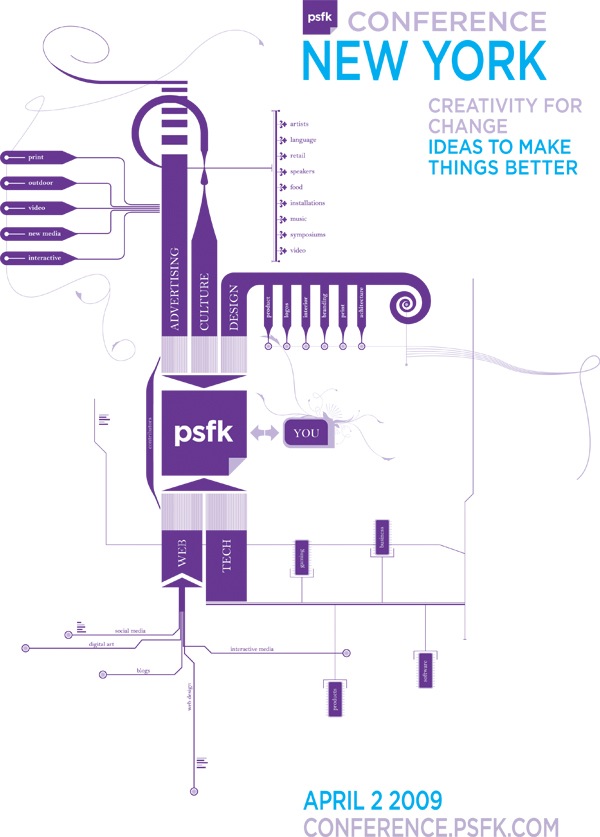 This is a collection of notes from the PSFK Conference NYC held on April 2 2009. Many of these notes come directly from my notebook and some were helped along by reading the twitter stream. Its really ugly looking but i'm not writing it down to remember it later- i'm writing it down to remember it now. I may add more to this as I sort through photos and what not. It's long, so click through if you are interested.
---
April 7th, 2009 at 11:15 am.
0 comments
.
Russell Davies on how the services we use today can serve as a collective family photo album to reminisce about things gone away.
I'm certainly not the first to realise or write about this effect but doing this really struck home how powerful things like Street View and geo-tagged Flickr will be as remembering tools. Not just remembering things you've got pictures of, but the things implied and stirred by the pictures. So they're not just tools for locating yourself or your objects, but for locating your memories and exchanging them with others.
---
April 7th, 2009 at 10:23 am.
0 comments
.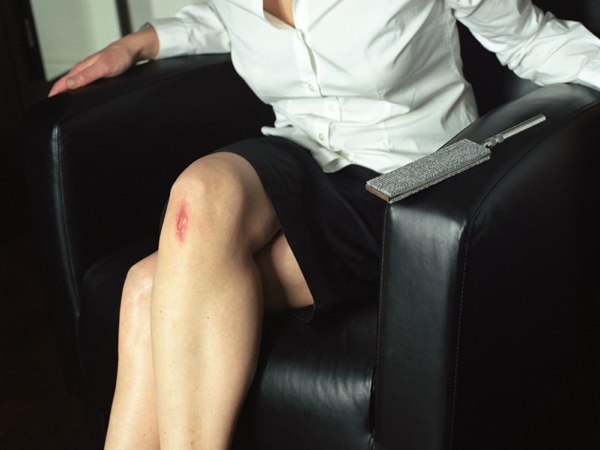 Highly specialized tools that you can use to add some significant drama to your life.
Traces of an Imaginary Affair designed by Björn Franke is a kit containing a set of nine tools which can be used to create an imaginary affair. These tools leave marks on the body, such as bite marks, carpert burns, bondage marks, love bites, scratches and bruises. In addition, probes of perfume, lipstick and haïr can be applied to either the body or clothes. It was inspired by stories of people who used to fake évidence of victimisation or illnesses to receive attention from others.
via dezeen
---
April 5th, 2009 at 1:17 am.
0 comments
.
Serendipity is looking in a haystack for a needle and finding the farmers daughter
– Julius Comroe Jr.
---
April 4th, 2009 at 1:12 pm.
0 comments
.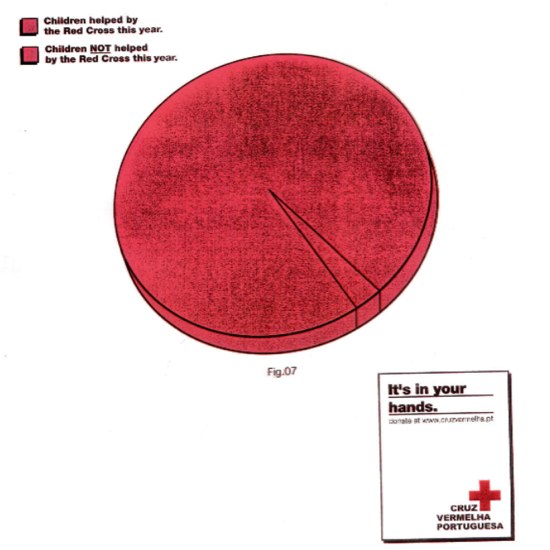 Ad for Portuguese Red Cross. Very interesting to see a confusing non-sensical information graphic get the mission of a organization so spot on.
---
April 4th, 2009 at 12:15 pm.
0 comments
.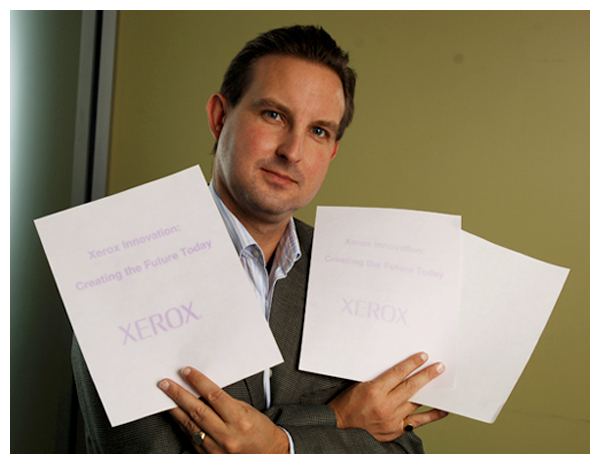 Xerox Corporation scientists have invented a way to make prints whose images last only a day, so that the paper can be used again and again. The technology, which is still in a preliminary state, blurs the line between paper documents and digital displays and could ultimately lead to a significant reduction in paper use
Absolutely amazing. Paper as a reusable digital platform. This would have some amazing uses beyond the office uses state by IBM. Imagine your notes being completely out of context and arrows and highlights referring to emptiness on the page. Or using the prints of photos as underlays for a drawing on top of them. As the paper gets used over and over are we creating a digital palimpsest in a sense?
---
[ iamtheweather powered by Wordpress And is definitely Not Plastic Bag ]