In the Category personal
---
Posted December 31st, 2010 at 6:49 pm. There
are 0 comments
.
Besides Jersey City, NJ (Home) & New York City, NY (Work) I visited 18 cities in 2010
Killington, Vermont
Kitzbuhel, Austria
Munich, Germany
Los Angeles, CA
Wilmington, VT
Montreal, Canada
Buffalo, NY
Piseco, NY
Lagos, Portugal
Monte Gordo, Portugal
Granada, Spain
Gibraltar, UK
Seville, Spain
Gafanha da Encarnacao, Portugal
Orense, Spain
Lisbon, Portugal
London, UK
Phoenicia, NY
---
Posted December 31st, 2009 at 2:22 pm. There
are 0 comments
.
Not too much travel this year. Again.
▪ New York City
▪ Jersey City
▪ Killington VT
▪ North Creek NY
▪ Montreal
▪ London
▪ Dorset VT
▪ Bennington VT
▪ Buffalo NY
---
Posted April 17th, 2009 at 4:41 pm. There
are 0 comments
.


I would like to direct your attention to an interview of industrial designer Alissia Melka-Teichroew by Michael Surtees over at designnotes. Really quite good. Alissia is the designer of the ring I gave to Doris when I asked her to marry me nearly two years ago.
My diamond rings… There wasn't a "problem" with the existing ones. I just question the fact if people really still remember the original value (not the diamond, but the act of asking someone to marry you) that is not a problem I think, that I solved. It's just one of many ways to look at it.
byamt website
@alissiamt on twitter
---
Posted March 5th, 2009 at 4:14 pm. There
are 0 comments
.
whitelines is a new writing paper that uses a stark white line over a light grey field rather than the usual dark line on white field. The reduced contrast inherent to the paper allows your drawings or writing to stand out cleanly, some examples. They come in a bunch of ISO paper sizes and bindings and are available lined or gridded. The books and pads also look pretty great. I ordered some A5 wire-bound gridded sketch books and look forward to trying them out in a few days.
---
Posted February 9th, 2009 at 10:26 pm. There
are 0 comments
.
---
Posted January 24th, 2009 at 2:33 pm. There
are 0 comments
.
Oil Change place has a generator that burns the used oil for electricity, solar panels and a water recycling system for the car wash. Our little grey car is getting some love today at the Wayne Auto Spa.
---
Posted January 16th, 2009 at 9:42 am. There
are 0 comments
.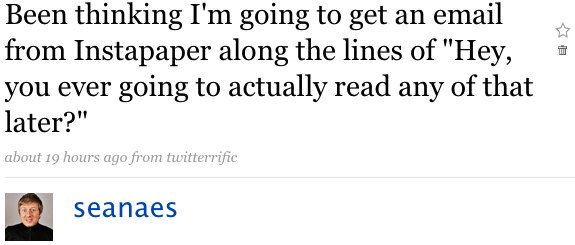 I really like the service/application Instapaper, but yesterday I noticed I kept putting more things into it and not taking them out. I am hoarding stuff – in hopes to Read Later (thats the text of the browser bookmarklet), which I truly want to do, but just keeping up with what's new, tends to leave no time for what I had wanted to Read Later. I posted this thought to twitter and through the magic of twitter and a very thoughtful Instapaper I received the email tweet I had been expecting.  Now that Instapaper has taken an interest in my dilema, even if just responding to my wondered aloud pseudo request, I promise to try to hoard less and read more – later.
---
Posted January 4th, 2009 at 11:05 pm. There
are 0 comments
.
New York City, NY
Jersey City, NJ (Home)
Ishgl, Austria
Zurich, Switzerland
Montreal, Canada
Lopatcong, NJ
Gafahna de Encarnacao, Portugal
Maison Frio, Portugal
Northville, NY
Los Angeles, CA
Buffalo, NY
---
Posted November 4th, 2008 at 12:09 pm. There
are 0 comments
.
---
Posted October 10th, 2008 at 11:44 am. There
are 0 comments
.
They are a necessary evil I feel both physically and digitally. Not everything is easily file-able or able to be fit into a easily defined category. Clay Shirky alludes to this when speaking of folksonomies allow for things to be tagged with different meanings and thus make them easy to find. Of course he speaks of the problem with physical items, say a library book, not being able to be shelved on 5 different shelves. So we can add tags to things and that will help us organize and find things in the future, and attach meaning to them. I set about the fearsome task of 'organizing' my Google Reader this morning and ran into some problems that I am still trying to figure out and get myself to the right mental model of what I want from the tools and options that Reader gives me.
You can add multiple tags to any particular RSS item
You can add an RSS feed to multiple folders
But, tags and folders are the same
Folders are tags, so they get put in the same pool of tags. What's good about this? One can put an RSS feed into multiple folders, effectively having it shelved on multiple shelves in your library of feeds. But like in a library you only want to have a certain number of folders, so you try to distill down the list, group similar items and get it to a manageable number. And then there is stuff that doesn't really fit into any of your broad-as-possible-while-still-being-useful folders. This stuff has sat unfiled, unorganized, adrift until today I was able to ignore the desire to put them into 1 (obviously not happening) or 8 (seemed not so great either) folders so I made a new one which I called Interesting, and this is my junk drawer, and I am very happy with it.
---
[ iamtheweather powered by Wordpress And is definitely Not Plastic Bag ]