In the Category map
---
Posted November 15th, 2010 at 10:27 pm. There
are 0 comments
.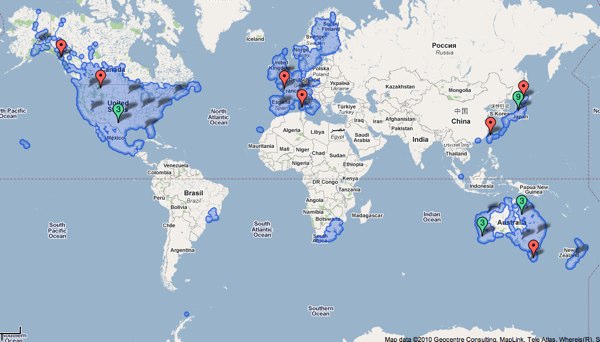 Google map showing all areas covered by Street View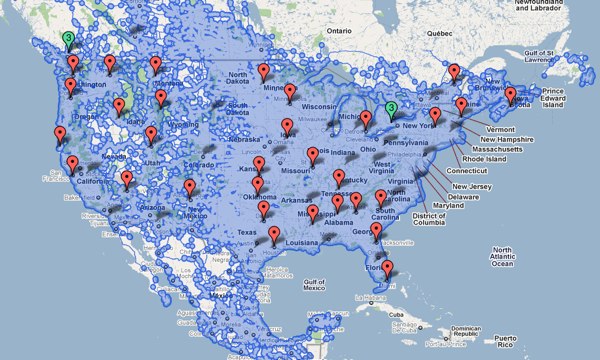 ---
Posted October 28th, 2010 at 2:47 pm. There
are 0 comments
.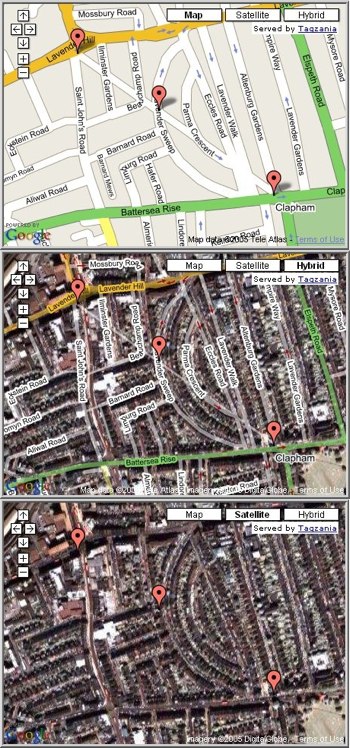 BLDGBLOG posits some possible futures of trap rooms which are the architectural equivalent of a trap street in the context of in the of interior mapping of shopping malls and the like. A trap street (examples) is a
deliberate cartographic error introduced into a map so as to catch acts of copyright infringement by rival firms.
So you put deliberately false information into your cartographic work and then monitor the maps created by competitors and watch for your honeypot cartographic features to show up on work they claim to be their own. As mentioned in the post, as the mapping of interior space becomes more widespread the introduction of trap rooms, trap corridors, trap stair etc will become commonplace as firm seek to protect their work and the deals they have made for the interior geo-data. In turn, people we be left wondering how to occupy the spaces they see in some of their maps, but not others. The best bit comes at the end,
But I'm also curious about less practical things, such as what cultural, even psychological, effects the presence of trap rooms might actually have. Games could be launched, the purpose of which is to find and occupy as many trap rooms as possible. New paranoias emerge, that the room featured above your apartment on that new app you just downloaded is not really there at all; it's a trap room, and you can't sleep at night, worried that you actually have no neighbors, that you're the last person on earth and every building around you is a dream. There are panic attacks by people walking home alone at 3am when they become overwhelmed with the suspicion that they are actually walking inside a trap hall—a corridor that has never been real—losing consciousness and falling to the ground as irrational fears become too much for them.
---
Posted October 25th, 2010 at 11:24 am. There
are 0 comments
.
Approximately 1,376 Silos, Water Towers, and other Cylindrical-Industrial Buildings
by Jenny Odell
Be sure to check out the other satellite collections as well the ministry of approximate travel

what is approximate traveling? In order to travel approximately, I made use of any source of information I could find online, relying especially on Google Street View, photo databases (Panoramio, Picasa, Flickr), review sites (Yelp, TripAdvisor, CitySearch, Insider Pages), and virtual tours of monuments, restaurants, hotels, etc. I transported myself into one place after another, both by writing a travel narrative and by superimposing myself onto photos I found online. The people I "met" were disgruntled hotel reviewers, restaurant ravers, and anyone who took the time to upload their story in one form or another to a site like Google Maps.
---
Posted September 1st, 2010 at 7:36 pm. There
are 0 comments
.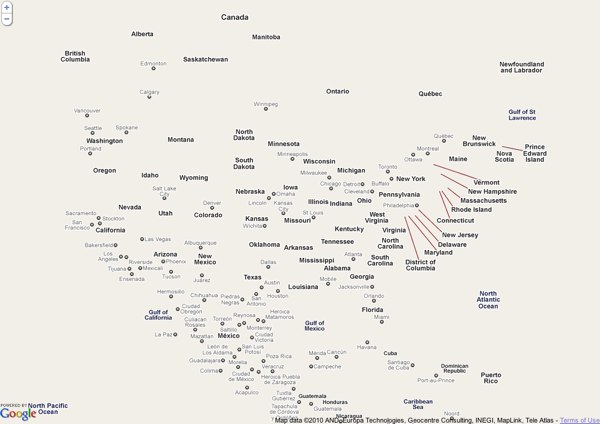 Fata Morgana by Damon Zucconi
---
Posted July 1st, 2010 at 10:00 am. There
are 0 comments
.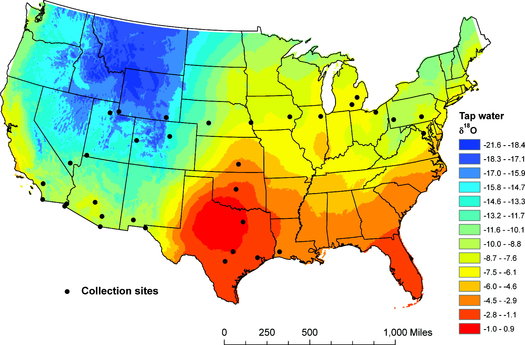 Trackable Beverages This tap water "isoscape" map shows how hydrogen and oxygen isotopes vary throughout the country. Geographic factors like latitude, altitude and proximity to coasts all play a role in this isotopic variation. The cities on the map show where the researchers tested tap water along with bottled water, soda and beer. ACS/Journal of Agricultural and Food Chemistry
These geographically specific signatures show up in human hair making a record of you travels a real possibility.
To test this theory, the scientists analyzed tap water from 33 cities and looked at isotope patterns in Dasani bottled water, Coca-Cola Classic and Budweiser. They found the beverage isotope pattern from those cities matched the tap water pattern — which makes sense, because many beverage companies produce their drinks regionally instead of in one main location. For example, if you drink a Bud in Utah, it probably came from the Anheuser-Busch plant in Fort Collins, Colo., not St. Louis.
via fresser
---
Posted November 12th, 2009 at 12:25 pm. There
are 0 comments
.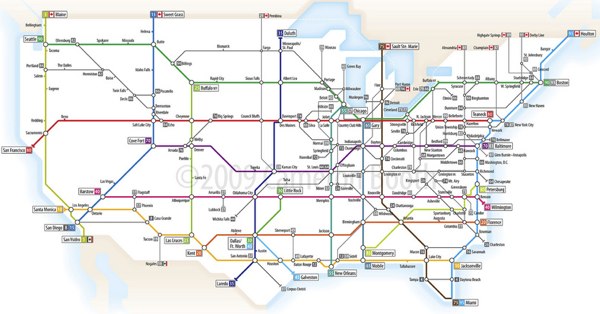 Senex Prime on flickr
---
Posted October 22nd, 2009 at 12:42 pm. There
are 0 comments
.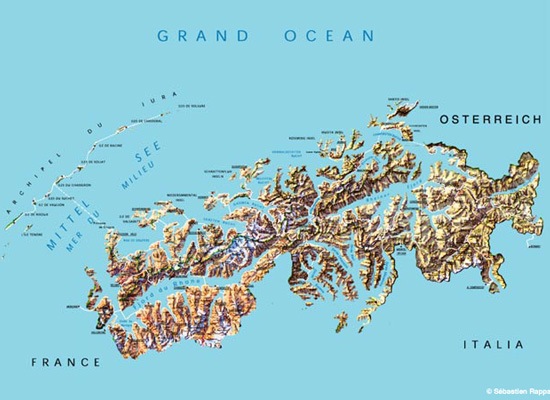 I don't remember seeing this in particular at the Swiss EXPO.02 but a number of artists working together under the name Waterproof "imagined a(n) (im)possible scenario wherein the water level in Switzerland rises to 1400 meters (4600 feet), turning the landlocked, Alpine country into an island nation, its rocky peaks rising above a vast ocean."
The series of images over at Pruned show an imaginative take on how the Swiss might deal with their new situation.
via Pruned
---
Posted October 14th, 2009 at 7:28 pm. There
are 0 comments
.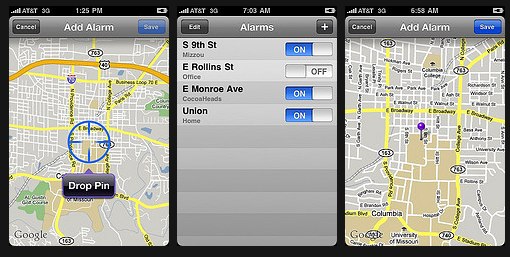 Proximity is a simple iPhone app that works as an alarm clock except the alarm is not set for a time but rather a location. It is aimed at commuters and others that end up sleeping while they are moving in some sort of transport. It is a great mobilization of two things that are usually understood as fixed: You sleeping in bed and your alarm clock on the bedside table are in a fixed location. A standard proximity sensor that is fixed in location sensing when moving things get closer than a pre-selected distance threshold.
I really like the transposition of a specific location where one would usually have a specific time, attaching an alarm to a where rather then a when. It is a bit of genius.
---
Posted July 24th, 2009 at 8:52 am. There
are 0 comments
.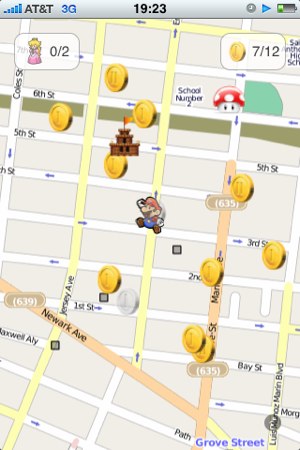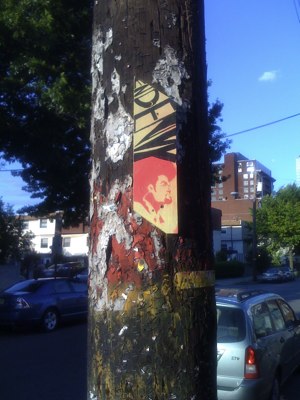 Walking home the other day I decided to play Mariolife, a real life GPS game on my iPhone. Playing in this case, is walking around in the real world gathering up virtual coins and mushrooms and rescuing princesses. In my quest to gather up coins I found myself walking on streets I had never walked, at least with any kind of noticing, and running into bits of street art I had not yet seen as well. My real life adventure was being guided by the placement of coins that existed only on the screen of my iPhone. So in spending a couple of hours wandering around collecting virtual coins and real street art (in photos) I realized that there was something really special about the collision of very different real world expereinces that was happening here.
Mariolife on iTunes
---
Posted June 26th, 2009 at 1:47 pm. There
are 0 comments
.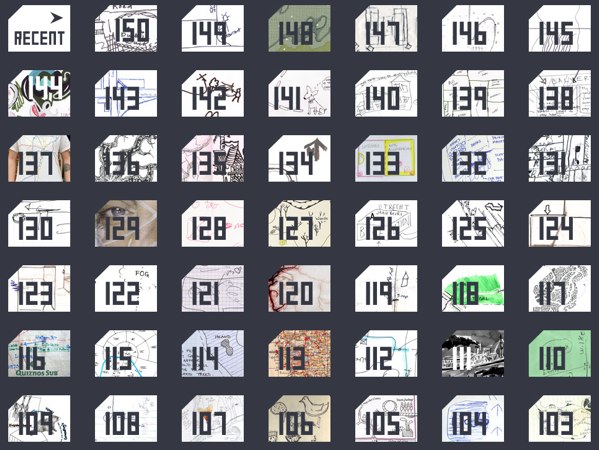 The Hand Drawn Map Association is an ongoing archive of user submitted maps and other interesting diagrams created by hand. There are 150 maps submitted already including some lovely map collections.
Our current collection features a set of maps created by John Hutchison exploring his relationship to the 50 states in the US. The collection starts with a map representing all of the US states. Each successive map in the collection reveals a different set of states based on increasingly limiting criteria until we are left with only 1 state (his least favorite).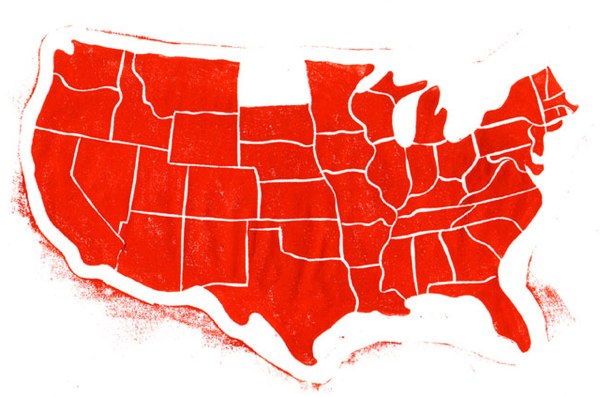 Image Credit: John Hutchinson April 29th – "US state I have Visited"
---
[ iamtheweather powered by Wordpress And is definitely Not Plastic Bag ]